Mick Foley's Temple Street cycle
December 14, 2020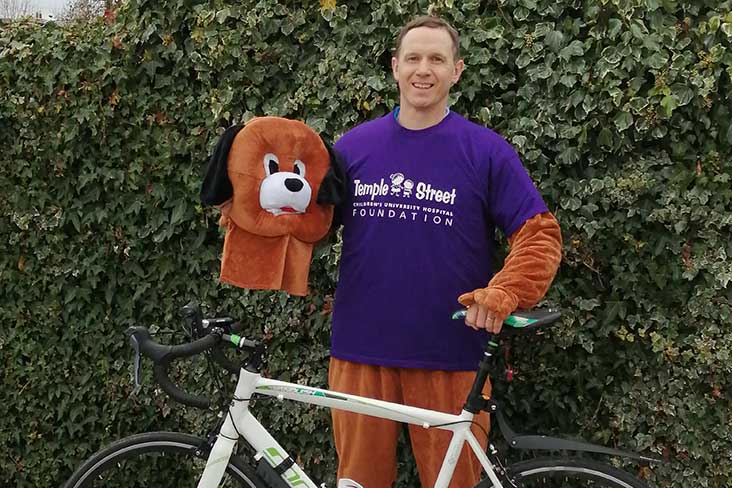 Mick Foley and his dog costume are ready to go on New Years day
Former Meath hurler Mick Foley will attempt to raise some much needed funds for Temple St Children's Hospital.
The Gaeil Colmcille veteran and owner of Cookstown Kennels will cycle from Kells to Temple Street and back this New Years Day while dressed in a dog mascot costume.
Michael's Story:
I'm a very lucky father of 3 happy and healthy young girls (aged 5, 2 and 1) and have only had to attend Temple St Children's Hospital on a few occasions to get a couple of bangs and bumps checked out. However any time we've been up there we've been taken aback by the by the care and support shown by all the staff towards the children and families dealing with much more serious illnesses. I often said that if I ever got the time I'd try and raise some funds for the hospital through the Temple St Foundation. Thanks to Covid 19 I now have the time. So I've come up with a cycling challenge to be completed on new year's day with the aim of raising as much money as possible for the foundation.
Temple St Foundation:
All money raised will go towards the main objective of the foundation which is to support the hospital in the 4 following areas:
1. Life changing medical research.
2. Vital life-saving equipment.
3. Patient and parental support services.
4. Ward and service redevelopment.
As with a lot of charities this year, the foundations fundraising activities have been severely restricted due to Covid 19. All the coffee mornings, bucket rattling etc have all been cancelled so they're relying hugely on online donations. All donations would be greatly appreciated.
The challenge:
On new year's day 2021 I'm going to do a solo cycle of 125km from Kells to Temple St and back while dressed in a dog mascot costume.
I've never been much of a cyclist so I've been training away for the last 6 weeks trying to build up the miles in the legs. I started off with local cycles but since restrictions have been lifted I've been up and down the roads of Meath visiting towns from Oldcastle to Ratoath. I did a 90km cycle this weekend so with less than 3 weeks to go I'm nearly there. All support would be greatly appreciated so if anyone wants to donate they can use the link below.
TO DONATE CLICK HERE
Most Read Stories