MFC Div 4 Shield Final: 'Wood' too strong for Ratoath
September 27, 2020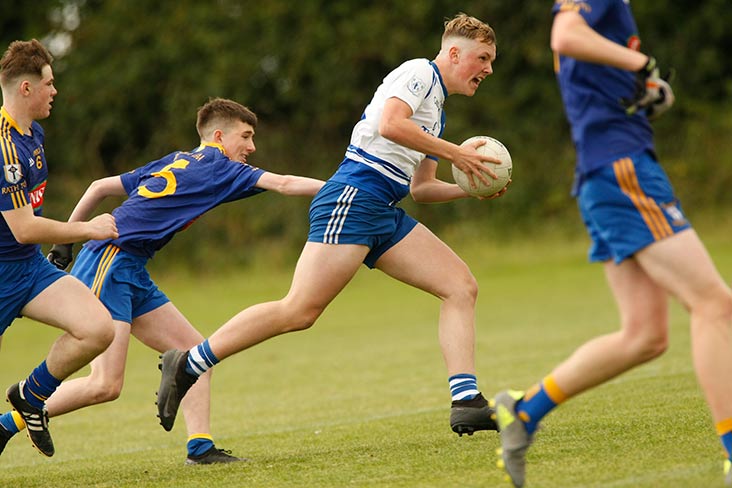 Kilmainhamwood's Jack Gillespie break through the Raoath defence during the Meath MFC Div 4 Shield final in Dunganny
Kilmainhamwood 5-13 Ratoath 2-7
Kilmainhamwood cruised to a 15 point victory over a fancied Ratoath 2nd Team in Dunganny on Saturday afternoon. Played in beautiful sunshine, Ratoath started brightly leading 3 points to nil. Kilmainhamwood began to settle into the game with Eoin Finnegan going close to a goal on 12mins and hitting the post soon after. Jack Gillespie slotted over Kilmainhamwoods first point after 16 minutes. The Wood had the winds on their backs in the 1st first, and Rian Stafford scored the woods 2nd point of the day after the water break.
This is when things changed dramatically for the Wood. On 21 mins, Oisin Reilly burst through the Ratoath defence to bury low to the bottom corner to give the wood a lead they were never to relinquish.
A minute later, after great work from Eoin Finnegan, Jack Gillespie again burst through and buried to the net again to give the Wood a 4 point advantage.
Rian Stafford and Jack Gillespie again scored from play to open the gap to 6 points. A tremendous block from Killian Russell kept Ratoath at bay. Jack Gillespie went close again rattling the post. A super save from Keeper Ciaran Doyle boosted the Woods confidence.
3 more points from the ever dependable left boot of Jack Gillespie left the Wood leading at half time 2-6 to 0-4.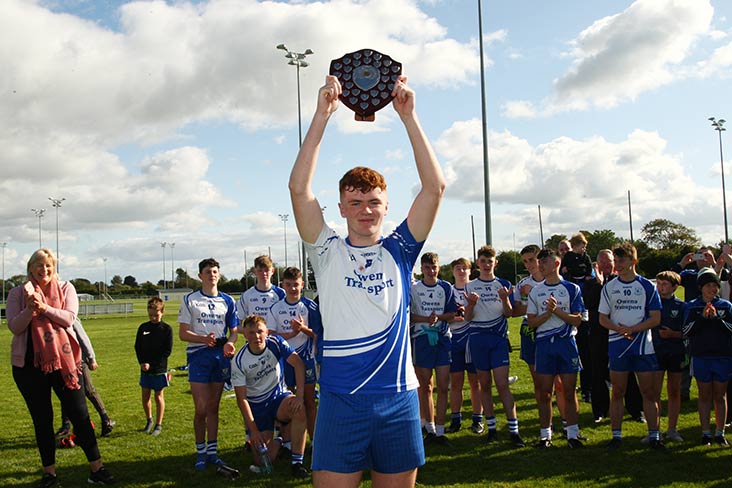 Kilmainhamwood began the 2nd half where they left off the 1st half. After great work from defence in the 1st minute from Darragh Smith and the 2 Gillespies, it was Jack again who rattled the Ratoath net.
Rian Stafford scored a point soon after before Ratoath scored 1-1 without reply to leave 6 between the sides.
However on 38 mins, the Wood extended their lead again with another thunder bolt from Jack Gillespie after great work from Kian Owen's and Eoin Rooney from right back in the full back line.
Ratoath scored another goal midway through the 2nd half to keep the game open as a contest. However points from play from The Gillespie brothers and Eoin Finnegan put the game beyond doubt.
Further points from Curtis O Shea, Oisin Reilly, Rian Stafford and Eoin Rooney as well as a beautiful individual goal from Rian Stafford gave Kilmainhamwood a 15 point victory.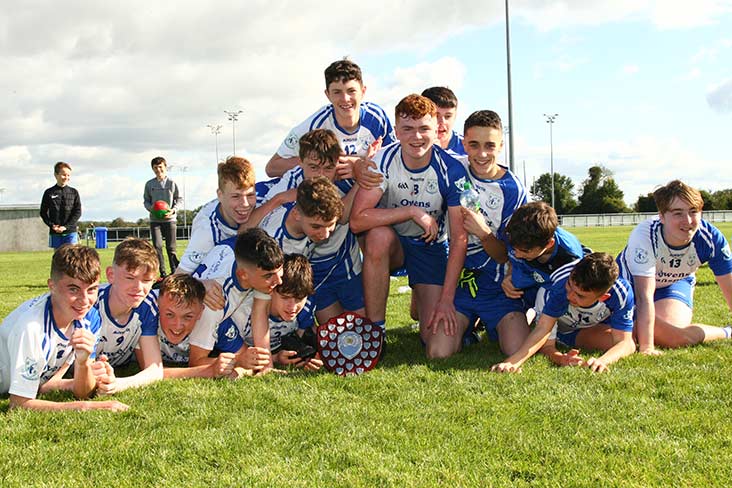 It was a well earned victory for the North Meath side who played with a panel of only 15. The work rate, character and commitment shown by all today was clearly evident and something the Town side could not handle.
It was nothing more than this team deserved who narrowly missed out on progressing in the Minor Championship. Alot to look forward to next year with this team. Well done to the management team of Richie Gillespie, Sid Smith and Ray Madden, who had the Wood very well organised from the start. Kian Gillespie raised the Minor shield on behalf of his jubilant team Mates.
Kilmainhamwood: Ciaran Doyle, Kian Owens, Killian Russell, Darragh Homan, Adam Doyle, Darragh Smith, Euan Lowry, Kian Gillespie, Oisin Reilly, Rian Stafford, Jack Gillespie, Eoin Finnegan, Curtis O Shea, Eoin Rooney, Noah Madden
Most Read Stories