Schools: Third premier title for St. Seachnall's
May 28, 2018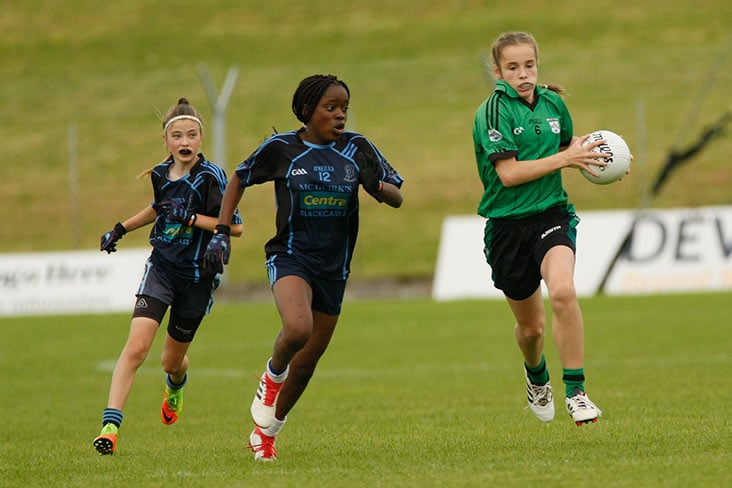 St Olivers Chloe Caffrey and Chanel Azong give chase to Molly O'Connor St Seachnall's during the Girls Division 1 final at Pairc Tailteann.
St. Seachnall's N.S Dunshaughlin 6-9 St. Oliver's  N.S 4-3
St. Seachnall's were crowned Allianz Meath Cumann Na mBunscol Girls Division 1 champions with this win over St Olivers at Pairc Tailteann. The Dunshaughlin school previously won titles in 2006 and 2012. 
Thanks to points from Mia Brady (2) and Lauren Nash the Navan school were 0-3 to 0-1 up inside ten minutes. The winners finished the half with goals from Molly O'Connor, Elena Kennedy and Chloe McLoughlin and held a 3-2 to 1-3 half time lead.
Another goal from Kennedy and points from O'Connor (2), Anna Moyles (2) and Anna Duffy without reply opened up a 13 point gap. Olivers replied with goals from Chanel Azong (2) and Nash to narrow the gap but Seachnall's were not to be denied and closed out the game with goals from Chloe McLoughlin and Kennedy.
St. Seachnall's scorers: Elena Kennedy 3-0, Molly O'Connor 1-4, Chloe McLoughlin 2-0, Anna Moyle 0-3, Anna Duffy 0-2
St. Oliver's scorers: Chanel Azong 3-0, Lauren Nash 1-1, Mia Brady 0-2
St Seachnall NS: Megan Duignan, Ellen O'Donoghue, Kinga Basinska, Emily Carter, Sinead Cooke, Zara Ward, Molly O'Connor, Elena Kennedy, Anna Moyles, Chloe McLoughlin, Erin Gray, Annie Lynch, Anna Duffy, Laura Eagle-Hendrick, Abbie Roche, Cara Brophy, Ellie-May Fegan-Ward, Lucy Boyle, Keva McTigue, Claire McDonagh, Aisha Saadon, Emily Fairbrother, Eileen Gannon, Sarah Duffy.
St. Olivers: Viktorija Lovkel, Erin Gallagher, Chantelle O'Driscoll, Rihanna Skelly, Cara Cahill, Aedin Davis, Naoimi Abu, Mia Brady, Chloe Caffrey, Lauren Nash (Capt), Molly Egan, Chanel Azong, Zoe Coyne, Aisling Coffey, Eimear Brady, Simiat Akanni, Ava Dooner, Anna Staunton, Emma Clynch, Aoibhin Brady, Nia Deegan, Rachel Gibney, Sarah Finnegan, Mya Doocey, Aoife Cahill, Aoife Brady, Caoimhe Lambe.
Referee: Jimmy Walsh St Marys Ashbourne
Most Read Stories