Leinster IFC: Leneghan goal crucial for Mattock
October 29, 2019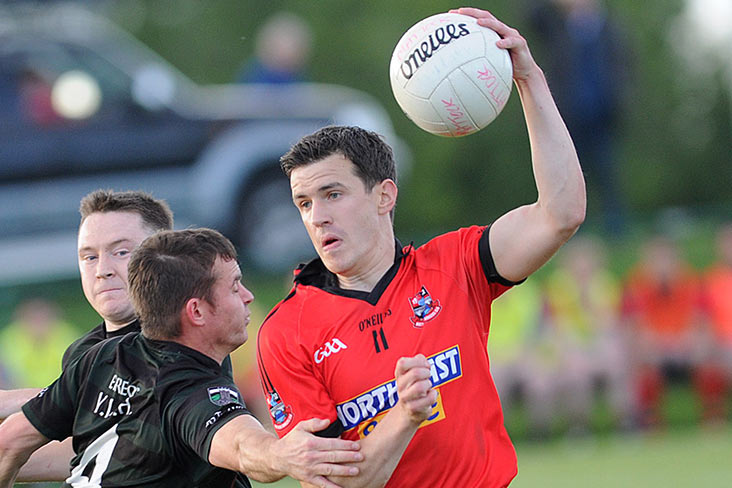 Adrian Reid - Mattock Rangers
MATTOCK RANGERS 1-13
BRACKNAGH 1-10
Mattock Rangers made it a worthwhile trip to Offaly on Saturday afternoon as they made a winning start to the Leinster Intermediate Championship.
A goal from Ryan Leneghan early in the second half proved the difference between the teams as the Louth champions made it into the last eight.
There wasn't a lot to choose between the teams throughout the first half although Mattock did lead by 0-5 to 0-2 midway through the first half. However, the hosts hit back to cut the gap to just 0-6 to 0-5 at the break.
The opening minutes of the second half saw the Collon side take control with Ryan Leneghan scoring the first goal of the game, while points from David Reid saw them open up a healthy advantage.
Although Bracknagh hit back in the closing stages to reduce the game, Mattock remained in control and held out for a three-point win.
Mattock Rangers: Mike Englishby; Alan Caraher, Shane Maguire, Daire Englishby; Brendan Leacy 0-1, Niall McKeown, Sean Gilsenan; Adrian Reid, Daniel Bannon 0-1; Terry Donegan, Ryan Leneghan 1-0, Shane Hickey 0-3; Brian Corcoran, Aaron O'Brien 0-3, David Reid 0-5. Subs: James Caraher for T Donegan, Oisin McKenna for S Hickey, Cathal Fleming for R Leneghan, Ronan Kilbane for S Gilsenan, Hugh Donnelly for A O'Brien, Cillian Hickey for C Fleming.
Most Read Stories