IFC semi-finals: Mattock to face Kilkerley
September 16, 2019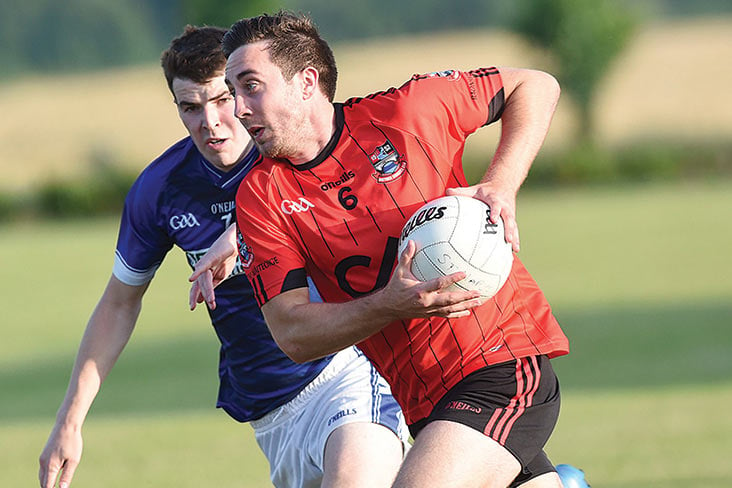 Niall McKeown Mattock Rangers
Mattock Rangers will face Kilkerley Emmets in the Intermediate Championship Final after both teams came through their semi-finals over the weekend.
Mattock were first into the decider as they finished strongly to defeat Clan na Gael on Friday, night, while Kilkerley came through against St Brides in their clash on Sunday evening.
Mattock Rangers booked their place in the final when they came from behind to defeat Clan na Gael by 1-11 to 2-6 in Stabannon on Friday night.
For much of the second half, the Dundalk side looked to be in the driving seat but they failed to take chances to kill off the game and Mattock took their opportunity as late points from Cathal Fleming and Niall McKeown saw them come out on top.
The Collon side got off to a bright start but suffered a setback when they lost David Reid to injury inside the first quarter. Clans took advantage when Billy Smith found the net to level the game at 0-5 to 1-2.
However, Mattock composed themselves and a goal from Shane Hickey helped them lead by 1-5 to 1-2 at half time.
Within a minute of the restart the Clans were back on terms with a Mark Newell goal. The teams were still level at 2-6 to 1-9 entering the closing minutes and while the Dundalk side missed chances to edge in front, Mattock proved more clinical as Fleming and McKeown landed the decisive points.
Kilkerley Emmets sealed their return to the final when they scored a 0-11 to 0-8 win over St Brides in a game played in difficult conditions at Haggardstown on Sunday evening.
There was little to choose between the teams for much of the hour but the decisive spell came early in the second half when the Emmets kicked five unanswered points to take a grip of the game.
The first half saw both sides struggle to come to terms with the rain and at the break they couldn't be separated as the half ended level at four points apiece. Tadhg McEneaney (3) and Michael Begley were on target for the winners, while Sean Marry (3) and Emmet Kirk replied for the Knockbridge side.
Kilkerley took charge after the restart as Shane Lennon (2), McEneaney (2) and Begley all found the target.
The Brides fought hard to get back into the game with Aaron Hoey, Marry and Mark Hoey pointing, but a late score from Lennon ensured that Kilkerley advanced to the final.
Most Read Stories