What they said … the weekend in quotes
August 26, 2019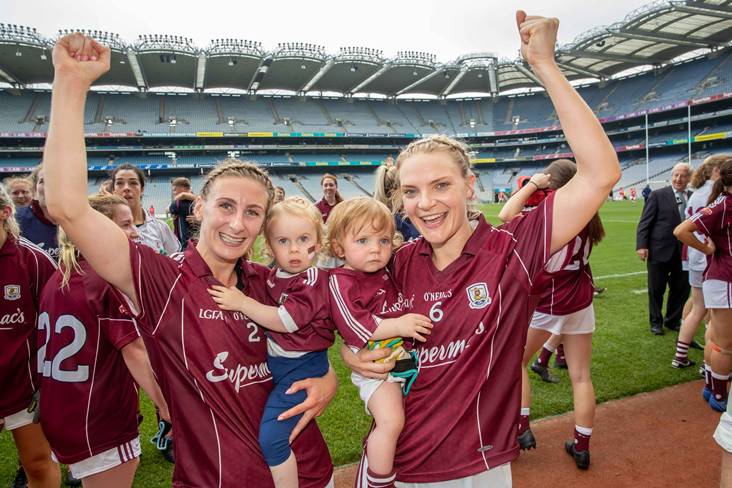 Galway's Sinead Burke with her 1-and-a-half-year-old neice Marley Burke and Barbara Hannon with her 1-year-old son Miko Finnegan celebrate. ©INPHO/Morgan Treacy.
"I didn't bring up my kids for the fellahs to play in Croke Park and the girls to play somewhere else - I didn't do that."
10,000 spectators turned up for yesterday's All-Ireland SFC Ladies football semi-final double-header and Dublin manager Mick Bohan says they deserve the chance to grace the hallowed turf.
"I think they have done great work, this was a bit of a trial and if you think about there was 10,000 here - that's 9,000 more than was at our semi-final last year."
Dublin's Niamh McEvoy echoed her manager's sentiments.
"Today is a great occasion and enjoy it for today. We'll be back to the ground work again come Monday and I suppose we'll be looking at Dublin. We've nothing won yet. One step closer but it's not the end of the ladder."
After their minimum margin win over Mayo, Galway's Mairéad Seoighe switched her focus to trying to stop Dublin's three in-a-row bid.
"We just didn't convert enough of the ball we turned over."
Mayo didn't capitalize on their chances, according to manager Peter Leahy.
"I knew by the way they were training. Like, Tuesday night, Jerome (Cahill), Paddy (Cadell), and Jake (Morris) came back and they were hopping off the sod. Fellas that had won a senior All-Ireland two days previously. It was just an absolute credit to them, they came with real intent last Tuesday night. We played 12 or 14 minutes of a match and it was as good a quality as I've ever seen."
Tipperary's U-21s transferred their training form on to the pitch in Saturday's empathic All-Ireland final victory over Cork and Liam Cahill couldn't have been prouder of his players.
"It's what dreams are made of to win two All-Irelands in one week."
It was a week that the Premier County's Jake Morris won't forget in a hurry.
"We thought going into it that we were in a pretty good place, but they blitzed us with those goals early on. They did that against Wexford as well and they have done it in all their games really. They have scored goals with ease and unfortunately we could not counter it."
Rebel County boss Denis Ring rued the concession of those early goals.
"I wouldn't say it's the same because your minor teams are new every year. He (Gavin) is getting into the same car, pretty much for the past five years, where we're changing cars every year. The car knows him as well as he knows the car. There's been teams that have come up against them and haven't knocked any smoke out of them."
The countdown to the All-Ireland SFC final is well and truly on – Kerry manager Peter Keane highlights the difference between Kerry's minor five in-a-row and what Jim Gavin and Dublin are aiming to achieve this weekend.
"Kerry will have to bring something different to the final and starting Walsh is the kind of call would have a bearing on potential match-ups."
RTE pundit Kevin McStay believes starting Tommy Walsh could pose plenty of problems for the Dubs.
"We started out in December 2015 with the simple goal to bring success back to Galway hurling and to build a culture of professionalism and consistency in performance. Since then we have had some amazing days most notably the 2017 All Ireland success. After four seasons we feel the time is now right to hand on the opportunity to a new management team."
Micheal Donoghue's departure as manager left Galway hurling in a state of shock.
Most Read Stories