Seven Tipp players named on HS Readers' Hurling Team Of The Year
September 04, 2019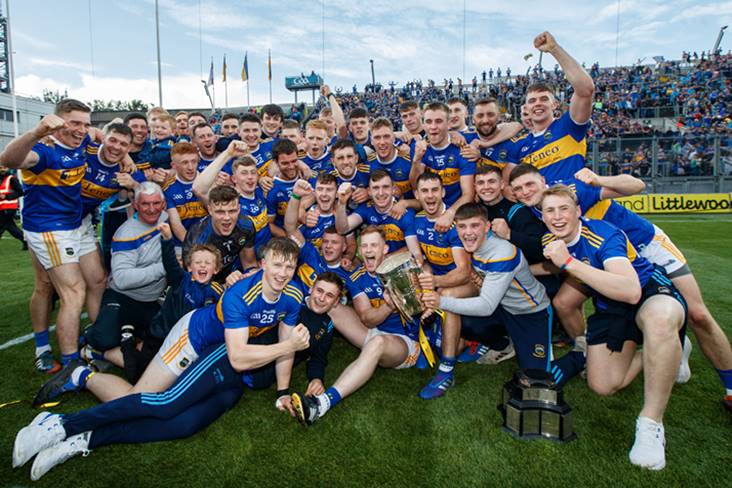 Tipperary players and management celebrate with the Liam MacCarthy Cup. ©INPHO/James Crombie.
We asked HS readers to pick their Hurling Team Of The Year and here we reveal the XV with seven representatives for All-Ireland champions Tipperary.
Our readers had their say over on the National Forum. We had the easy task of positioning the players.
HS Readers' Hurling Team Of The Year
GOALKEEPER:
1. Eoin Murphy (Kilkenny)
Nominees: Brian Hogan (Tipperary), Mark Fanning (Wexford), Nickie Quaid (Limerick), Enda Rowland (Laois).
DEFENDERS:
2. Sean Finn (Limerick)
3. Liam Ryan (Wexford)
4. Cathal Barrett (Tipperary)
5. Brendan Maher (Tipperary)
6. Padraic Maher (Tipperary)
7. Ronan Maher (Tipperary)
Nominees: Barry Heffernan (Tipperary), Huw Lawlor (Kilkenny), Joey Holden (Kilkenny), Padraig Walsh (Kilkenny), Paddy Deegan (Kilkenny), Conor Fogarty (Kilkenny), Matthew O'Hanlon (Wexford), Padraig Foley (Wexford), Shaun Murphy (Wexford), Mike Casey (Limerick), Richie English (Limerick), Diarmaid Byrnes (Limerick), Lee Cleere (Laois), Jack Kelly (Laois), Chris Crummey (Dublin).
MIDFIELDERS:
8. Noel McGrath (Tipperary)
9. Diarmuid O'Keeffe (Wexford)
Nominees: Michael Breen (Tipperary), Conor Browne (Kilkenny), Cian Lynch (Limerick), William O'Donoghue (Limerick), Paddy Purcell (Laois), Cathal Mannion (Galway).
FORWARDS:
10. John O'Dwyer (Tipperary)
11. TJ Reid (Kilkenny)
12. Lee Chin (Wexford)
13. Aaron Gillane (Limerick)
14. Seamus Callanan (Tipperary)
15. Patrick Horgan (Cork)
Nominees: John McGrath (Tipperary), Jason Forde (Tipperary), Colin Fennelly (Kilkenny), Adrian Mullen (Kilkenny), Walter Walsh (Kilkenny), Rory O'Connor (Wexford), Conor McDonald (Wexford), Paul Morris (Wexford), Kyle Hayes (Limerick), Graeme Mulcahy (Limerick), Gearoid Hegarty (Limerick), Peter Casey (Limerick), Alan Cadogan (Cork), Mark Kavanagh (Laois), Conal Keaney (Dublin).
Most Read Stories