Two-tier championship moves a step closer
April 20, 2019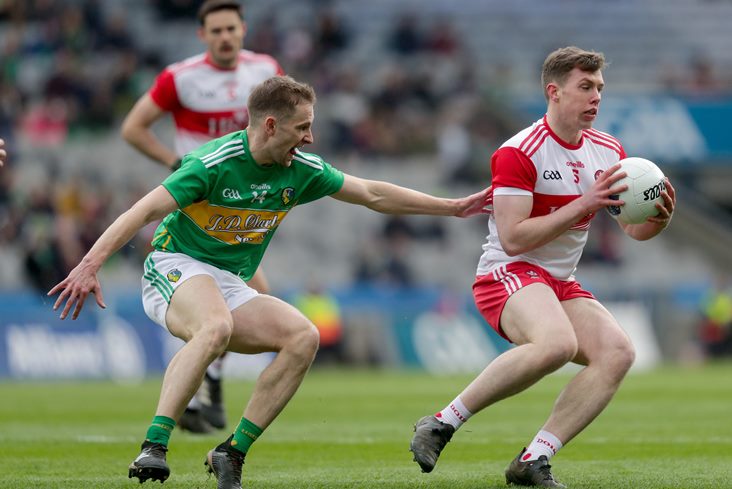 Leitrim's Evan Sweeney with Michael McEvoy of Derry during the Allianz FL Division 4 final at Croke Park
A two-tier football championship moved a step closer to becoming a reality this week when two options for the proposed second-tier competition were circulated to counties competing in Divisions 3 and 4 of the Allianz League.
According to Sean Moran in The Irish Times, a meeting among counties who are likely to be involved in the second-tier championship took place in Croke Park last Monday. The first option put to them was a competition that begins after counties exit their provincial championship, while the second proposal was to allow counties to take part in the early rounds of the All-Ireland qualifiers before entering a Tier 2 competition.
It's understood that the first option garnered most support at Monday's meeting, but the second option was favoured by player representatives, who attended on behalf of the counties along with their Central Council delegates.
The preferred option will be brought to a Special Congress in the autumn.
A second-tier competition would provide so-called 'weaker' counties with a more competitive structure and a realistic chance of winning silverware, but previous incarnations such as the All-Ireland 'B' championship in the 1990s and the Tommy Murphy Cup in the 2000s only lasted a few years.
Most Read Stories