Ladies: Dublin, Cork and Donegal capture provincial crowns
May 28, 2023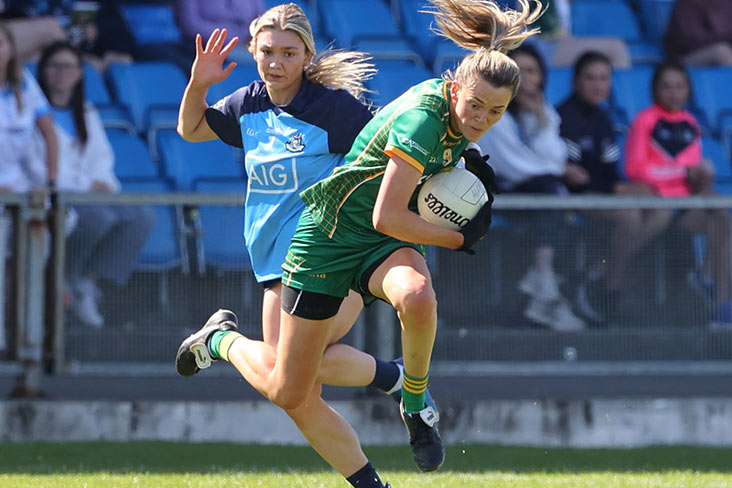 Meath's Aoife Minogue and Ellen Gribben (Dublin) during the Leinster SFC final at Portlaoise
Compiled by John Fallon
Dublin, Cork and Donegal were crowned TG4 Senior provincial champions in Leinster, Munster and Ulster respectively on Sunday. In the TG4 Leinster Senior final, Dublin won their tenth title in a row when they scored a 2-9 to 0-9 over reigning TG4 All-Ireland champions Meath who were hoping to capture their first provincial crown in 23 years.
In Munster, victory went to reigning champions Cork as the Rebels successfully defended their title with a 5-14 to 2-17 win over a Kerry side looking for their first provincial crown since 2017.
And in Ulster, Donegal finished strongly to deny Armagh a fourth title in a row with a goal from Ciara McGarvey sealing a 1-10 to 0-9 win to lift the crown for the first time since 2019.
Goals in either half from Kate Sullivan proved decisive as Dublin continued their remarkable run of success in Leinster with a third win in 2023 over reigning TG4 All-Ireland champions Meath.
Sullivan's opening goal saw the sides turn around level at 1-2 to 0-5 and her second goal ensured Dublin would again lift provincial silverware before the attention now switches to the TG4 All-Ireland series.
Armagh's hopes of a fourth Ulster title in a row came unstuck as Donegal, who led by 0-7 to 0-5 at the interval, came with a strong finish to claim the title.
There was little between the sides throughout the second half before substitute McGarvey, with her first touch, scored the only goal of the game to clinch victory for Donegal.
There was no shortage of goals in the Munster final with Cork scoring four in the opening half to lead by 4-10 to 0-7 at the interval, with two goals from Libby Coppinger and one apiece from Katie Quirke and Ciara O'Sullivan putting them in the driving seat.
A Kerry revival which included goals from Hannah O'Donoghue and Fiadhna Tagney gave them hope but Orlaith Cahalane got Cork's fifth goal and with Kerry missing two penalties, they held on for victory.
At Intermediate level, Kildare landed the Leinster title, as Antrim were crowned champions in Ulster.
And in the Junior grade, Carlow lifted the Leinster silverware on Sunday, as Down came out on top in Saturday's Ulster Final.
Also on Sunday, there was victory for Clare in the Munster Senior B final, which was played as a curtain raiser to the A final in Mallow.
Following the conclusion of the TG4 Provincial Championships, the groupings for the TG4 All-Ireland Intermediate and Senior Championships have been confirmed, with the Junior groupings having been predetermined.
2023 TG4 All-Ireland Championship groupings
Senior:
Group A: Mayo Armagh Laois
Group B: Donegal Meath Waterford
Group C: Dublin Kerry Cavan
Group D: Cork Galway Tipperary
Intermediate:
Group A: Kildare Leitrim Louth
Group B: Clare Tyrone Offaly Wicklow
Group C: Roscommon Wexford Monaghan
Group D: Antrim Longford Westmeath
Junior:
Group A: Sligo, Kilkenny, Limerick, Down
Group B: Derry, Carlow, London, Fermanagh
Results:
TG4 Leinster Championship
Senior Final
Dublin 2-9 Meath 0-9
Intermediate Final
Kildare 2-12 Wexford 1-8
Junior Final
Carlow 5-20 Kilkenny 0-6
TG4 Munster Championship
Senior A Final
Cork 5-14 Kerry 2-17
Senior B Final
Clare 0-13 Limerick 1-6
TG4 Ulster Championship
Senior Final
Donegal 1-10 Armagh 0-9
Intermediate Final
Antrim 2-18 Tyrone 1-13
Junior Final
Down 3-8 Fermanagh 1-8
Most Read Stories