'Globe trotter' - The Big Interview with Mayo's Rachel Kearns
May 20, 2023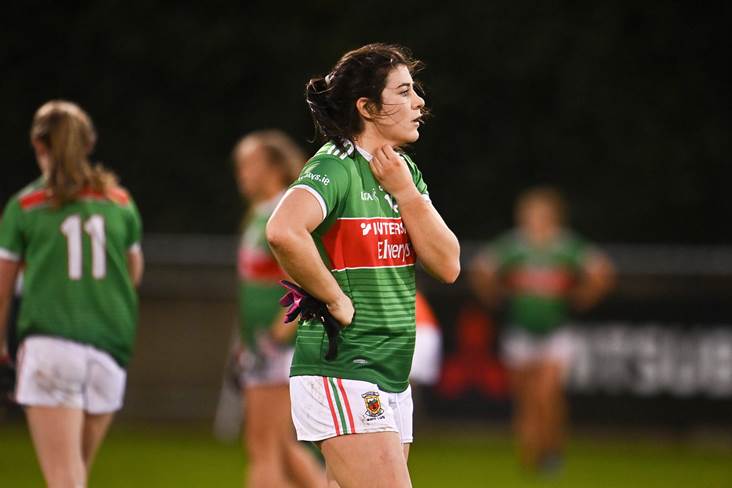 Rachel Kearns of Mayo © Sam Barnes/Sportsfile
By Daire Walsh
She might be set to resume her AFL Women's career in the autumn, but that won't prevent Rachel Kearns from donning the green and red of Mayo in this year's TG4 All-Ireland senior football championship.
A multi-talented sports star, Kearns signed terms with Aussie Rules outfit Geelong in July 2021 — a few months after showcasing her soccer skills at Galway United in the Women's National League. At the end of the same year, the MacHale Rovers ace also picked up her second TG4 All Star following a haul of 2-17 (0-8f) across five championship appearances.
Despite being back in the fold for the opening round of this year's Lidl National Football League Division 1, there was some doubt over how long Kearns was going to be available to Mayo in 2023. While Geelong were keen for her to be part of their pre-season preparations ahead of the league kicking off in September, an arrangement has been reached for Kearns to remain with Mayo for as long as they remain in the Brendan Martin Cup.
"When I left abroad, we didn't have a complete clarification of what I was going to do. They (Geelong) kind of said 'play the league and we'll see how you get on'. They were saying 'we would have liked to have you over a bit earlier' because I kind of missed all of last season with shoulder reconstruction," Kearns explained.
"They said 'we would like you to come over for the full pre-season, even though we know you really want to play Gaelic. Just go home and see how you feel'. Then basically the coach and the captain came over for a visit, because they were going looking at other players. We were talking and they said how was I getting on and I said I was really enjoying it. Then they said 'you could stay for the whole championship if that's what you wanted?'
"So I said 'that's fine' because it will work out. Myself (and Tipperary footballers) Aishling Moloney and Anna Rose Kennedy will be able to go over together. I know some coaches don't be as lenient as that. I have to say, I'm really blessed in Geelong. I'm really grateful to them for letting me do this."
Remarkably, Kearns' sporting prowess extends beyond the field of GAA, soccer (she played for the Republic Of Ireland U19s in the past) and the AFLW. She has two All-Ireland boxing medals in her possession and almost pursued a path to the Olympic Games.
"I did boxing, I think it was for four years. I remember at the time Katie Taylor was only getting kind of big then. For girls, boxing wasn't that big back then until, after I stopped, the Olympics came into it.
"I kind of missed that phase and I regretted giving it up at the time because I would have given the Olympics a go, but everything happens for a reason and I wouldn't regret it now. With anything else I've done in life, everything kind of worked out as well."
Although her future team-mate Cora Staunton was a strong role model, there was another Mayo footballer in her native Crossmolina who Kearns idolised from a young age. Regarded as one of the finest players the county has ever produced, Ciarán McDonald played alongside current Mayo ladies boss Michael Moyles on the Crossmolina Deel Rovers side that claimed an All-Ireland senior club football championship crown in 2001.
The flamboyant McDonald was also a highly-recognisable star on the inter-county scene back in those days and left a strong impression on Kearns as she was beginning her own sporting journey.
"I was nearly obsessed with him growing up. When you'd be going over to the club and you'd be watching the games. Sometimes you'd go over and the boys might be training. Straight away I'd go over and you'd see Ciaran over at the pitch taking shots and you thought this was the best thing ever.
"You'd go behind the goal and try to catch a size five that would nearly be the same size as you and try to kick it back! You thought this was literally the best thing in the world. Any new pair of football boots he'd get, I'd go running straight to Mammy and say 'I need to get these boots now!'
"I remember he had a pair of white and blue Predator boots and I wouldn't leave Mam alone until she bought them for me!"
During his own time with Mayo, McDonald played in no fewer than three All-Ireland SFC deciders. To date, Kearns has a sole Brendan Martin showpiece appearance to her name from the 2017 final defeat to Dublin played in front of a then-record final crowd of 46,286.
After finishing sixth in Division 1 of the Lidl NFL, Mayo got their hands on the TG4 Connacht Senior Football Championship title for the first time since 2016 with a 3-13 to 2-9 win over Galway at MacHale Park in Castlebar on May 7.
A late penalty from Kearns helped them to get over the line, but even though this provincial success is welcomed, she insists the focus has already switched to the start of next month's TG4 All-Ireland series and a shot at reaching another national final.
"We kind of had a talk the last night at training, we said the Connacht is won. It's done, it's gone, it's won. We can't really do anything about it now and concentrate just on the All-Ireland series. We've to wait for the draw to happen and see how that turns out, but we said we had a good couple of percentages to go to even reach the top teams at the minute," Kearns added.
"Which would be the likes of Kerry, Meath, Dublin. We'll have to up it a couple of notches to try and up to the standards for championship. We obviously are delighted we won Connacht, but it's done and dusted now. We have to move on and look onto the next stage."
Most Read Stories