A busy weekend for Meath captain Shauna Ennis
April 29, 2023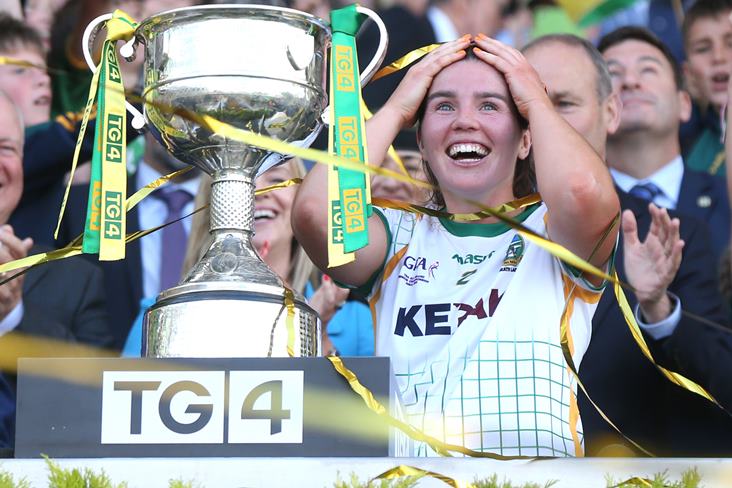 Meath captain Shauna Ennis with the Brendan Martin Cup. ©INPHO/Tom Maher.
By Daire Walsh
A primary school teacher at Kilcloon NS, her class celebrates their First Holy Communion later on today.
Tomorrow will also be a big day for Ennis as she begins a third successive championship campaign as Meath captain when the Royals welcome Dublin to Páirc Tailteann for the opening round of this year's TG4 Leinster Championship (throw-in 2pm).
While a lot of planning is needed for both events, Ennis, who's lifted the Brendan Martin Cup to mark Meath All-Ireland Senior successes in 2021 and 2022, is nevertheless looking forward to what she hopes will be a memorable couple of days.
"My class have their First Communion on Saturday. That's going to be a busy day for me. I'm glad the game is Sunday, not Saturday! Busy weekend, but obviously a very enjoyable weekend. The children are really, really excited this week. We're going up to church to practice and stuff like that," Ennis explained.
"It'll be a really enjoyable day for them and obviously a day that they'll remember well into their adulthood. I'm looking forward to a good weekend. We're really looking forward to the Leinster championship this year. Obviously we have Dublin in the first round at home.
"That's going to be a really big game for us. When they came to Pairc Tailteann last year, I think there was a crowd of nearly 5,000 people at it, so we're hoping there's going to be a really big crowd there and it's going to be a good game for the spectators."
Even though clashes between Dublin and Meath brings to mind her climbing the steps to lift the Brendan Martin Cup at the end of the 2021 TG4 All-Ireland Final, there was another meeting with the Jackies that represented a major landmark in the career of Ennis.
Back on February 3, 2013, she was one of six debutants as the Royals faced their Metropolitan counterparts in the opening round of Lidl NFL Division 1 at the St Brigid's GAA club in Castleknock. Despite coming up against a Dublin side packed with players who would go on to become household names (and already were in some cases), a youthful Meath team produced a strong effort before falling to a narrow 2-6 to 0-10 loss.
"Máire O'Shaughnessy and myself made our debuts," Ennis recalls.
"I just remember that the game was played on an astro turf, so it was a really fast pace. I was actually playing half-forward then. A bit of a different position for me.
"To be honest, I don't remember much of the game. It was a bit of a blur. Ten years down the line I'm still playing, thank God."
Ennis and O'Shaughnessy have been on quite the journey together in the decade that followed their competitive bows.
Between them, the influential duo have guided their county to no fewer than six national trophies across the various strands of the NFL and All-Ireland championships over a four-year spell (2019-2022). When Ennis assumed the key leadership role from O'Shaughnessy ahead of the 2021 inter-county season, she couldn't have imagined the road Meath were about to travel on.
Yet just over two years later, she finds herself as a back-to-back TG4 All-Ireland Senior championship winning skipper, with Lidl NFL Division 1 and Division 2 successes also thrown in for good measure.
"To think that we obviously would have done so well in 2021, that was sort of unimaginable. Obviously in a very privileged position to be a captain of such a good team. I always just hope I do the role justice, I guess."
A sign of just how far Meath have progressed in recent times was reflected on the recent TG4 All Star tour to Austin. When this trip was initially to be held in 2020 (before it was cancelled due to the Covid-19 pandemic), goalkeeper Monica McGuirk was the only player from the county who was set to be part of the travelling party.
However, the Duleek/Bellewstown shot-stopper had plenty of company in the Texas capital with 10 of her Royal team-mates — including Ennis, a first-time winner last year — on hand to play in an exhibition game between the 2021 and 2022 All Star selections at St Edward's University on April 9.
The trip also saw them in attendance for the women's soccer friendly featuring the trailblazing Republic of Ireland senior team and defending world champions USA at the Q2 Stadium in Austin.
"I hadn't ever seen the soccer team play before. It was great to see them play in Austin and the support from the American side was huge. The stadium was absolutely packed out of it. Really good atmosphere and really cool to get to see the USA team.
"We had an absolute ball over there. Played an exhibition match and had a bit of downtime. Got to know some of the girls from the other counties, which was lovely as well.
"I think on the All Star tour this year, there was a lot of girls who maybe have only won All Stars in the last couple of years. So it was a new bunch of girls that went. It was great to have so many Meath girls there with me."
Whereas Eamonn Murray managed the 2021 All Stars in Austin, he is no longer at the helm of the Meath ladies and instead it is his successor Davy Nelson who will be attempting to keep them at the top of the LGFA ladder for a third consecutive year.
Having absorbed the lessons of an uneven NFL Division 1 campaign that saw them finishing seventh overall, Ennis believes Meath will be primed for another big challenge in the All-Ireland series once their Leinster odyssey reaches a conclusion.
"Every year in the senior championship it's so competitive and you never know who's going to come out of what group. Or what group you're even going to end up in. I think we'll be very much taking it game by game. Going on our first group game, whatever group we're in," Ennis added.
Most Read Stories