Teams of the 2023 Ladies NFL revealed
April 24, 2023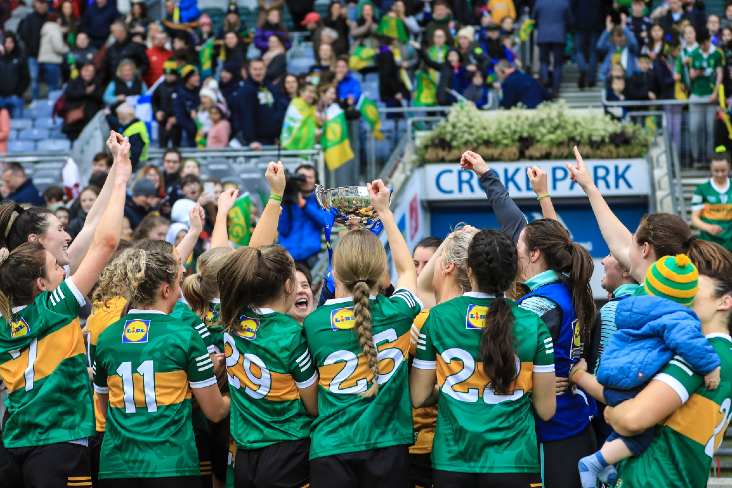 Kerry celebrate winning the Ladies NFL Division 1 ©INPHO/Evan Treacy
The Lidl Teams of the 2023 Ladies National Football Leagues – selected by the Ladies Gaelic Football Association's All Star committee – have been revealed.
Champions Kerry lead the way on the Division 1 selection, with nine players selected.
Runners-up Galway have four players on the Team of the League, while there are also inclusions for Waterford's Megan Dunford and Cork's Eimear Kiely.
The nine Kerry players honoured are goalkeeper Mary Ellen Bolger, defenders Kayleigh Cronin, who was Player of the Match in the Final victory over Galway, Aishling O'Connell and Cáit Lynch, midfielder Lorraine Scanlon, and forwards Niamh Carmody, Niamh Ní Chonchúir, captain Síofra O'Shea and leading scorer Louise Ní Mhuircheartaigh.
From Galway, captain Sarah Ní Loingsigh, Nicola Ward, Ailbhe Davoren and Olivia Divilly are acknowledged for their efforts throughout the Lidl National League campaign.
In Division 2, champions Armagh lead the way, with eight players selected.
Goalkeeper Anna Carr, Clodagh McCambridge, Grace Ferguson, Lauren McConville, Niamh Coleman, Blaithín Mackin, Aimee Mackin, player of the match in the Division 2 Final, and Aoife McCoy are listed on the team.
Runners-up Laois are represented by four players – Clodagh Dunne, captain Ellen Healy, Erone Fitzpatrick and Mo Nerney.
Tipperary have two players on the team, namely Anna Rose Kennedy and Aishling Moloney, while Westmeath's Lucy Power is also rewarded for her efforts.
On the Division 3 team, champions Kildare have five players named – including captain Grace Clifford and Final player of the match, Róisín Byrne.
Runners-up Clare follow closely behind with four players on the team, including captain Caoimhe Harvey; there are two players each from Down and Wexford, while players from Sligo and Louth are also acknowledged.
The Division 4 team is made up of seven players from champions Antrim, including captain Cathy Carey and Final player of the match Orlaith Prenter, five from runners-up Leitrim, two from Fermanagh and one from Limerick.
The winners will receive their awards at Croke Park on Friday May 5.
Lidl Teams of the 2023 Ladies National Football Leagues
Division 1 - Mary Ellen Bolger (Kerry), Sarah Ní Loingsigh (Galway), Kayleigh Cronin (Kerry), Megan Dunford (Waterford), Aishling O'Connell (Kerry), Nicola Ward (Galway), Cáit Lynch (Kerry), Lorraine Scanlon (Kerry), Ailbhe Davoren (Galway), Niamh Carmody (Kerry), Niamh Ní Chonchúir (Kerry), Olivia Divilly (Galway), Síofra O'Shea (Kerry), Eimear Kiely (Cork), Louise Ní Mhuircheartaigh (Kerry).
Division 2 - Anna Carr (Armagh), Clodagh McCambridge (Armagh), Clodagh Dunne (Laois), Lucy Power (Westmeath), Grace Ferguson (Armagh), Lauren McConville (Armagh), Ellen Healy (Laois), Anna Rose Kennedy (Tipperary), Niamh Coleman (Armagh), Blaithín Mackin (Armagh), Aimee Mackin (Armagh), Erone Fitzpatrick (Laois), Mo Nerney (Laois), Aishling Moloney (Tipperary), Aoife McCoy (Armagh).
Division 3 - Mary Hulgraine (Kildare), Claire Dunne (Sligo), Síofra Ní Chonaill (Clare), Laoise Lenehan (Kildare), Róisín Murphy (Wexford), Meghan Doherty (Down), Caoimhe Harvey (Clare), Grace Clifford (Kildare), Chloe Moloney (Clare), Ciara Banville (Wexford), Róisín Byrne (Kildare), Fidelma Marrinan (Clare), Natasha Ferris (Down), Neasa Dooley (Kildare), Laura Collins (Louth).
Division 4 - Anna McCann (Antrim), Charlene Tyrrell (Leitrim), Molly McGloin (Fermanagh), Niamh McIntosh (Antrim), Sarah O'Neill (Antrim), Courteney Murphy (Fermanagh), Carla LeGuen (Leitrim), Ana Mulholland (Antrim), Róisín Ambrose (Limerick), Laura O'Dowd (Leitrim), Cathy Carey (Antrim), Lara Dahunsi (Antrim), Michelle Guckian (Leitrim), Orlaith Prenter (Antrim), Leah Fox (Leitrim).
Most Read Stories