'Meath really opened up the championship for a lot of teams'
April 22, 2023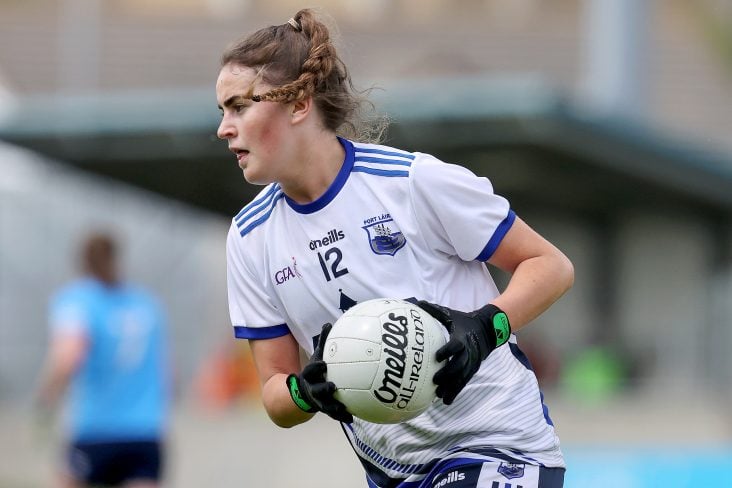 Waterford's Kellyann Hogan ©INPHO/Bryan Keane
By Daire Walsh
Last weekend's Lidl National Football League finals brought back some good memories for Waterford footballer Kellyann Hogan.
Four years before claiming their first Division 1 crown in all of 32 years with an impressive triumph over Galway, Kerry took on the Déise County in a Division 2 decider held at Parnell Park in 2019.
Still a teenager at that point - and in just her second year on the senior panel - Hogan was amongst the goals as Waterford claimed the silverware with a 5-13 to 1-17 victory.
Remarkably, this wasn't the only success that Waterford enjoyed against the Kingdom in that particular month. Just six days later, Hogan started in attack as Waterford recorded a 1-12 to 2-4 win over Kerry in the first round of the Munster Senior Football Championship at Cusack Park in Ennis.
"We were actually just talking about that the other day. Beating Kerry twice in two weeks is never a bad thing. That's something we have always had in the back of our heads. We don't have the fear of not being able to beat them in our heads. It's always a good thing," Hogan said.
While Kerry have progressed significantly since those 2019 meetings (securing Division 1 and Division 2 NFL titles as well as reaching last year's TG4 All-Ireland senior football championship final), clashes between themselves and Waterford remain relatively close-run affairs.
When the two teams met in Piltown on the opening weekend of this season's Lidl Division 1, the Kingdom needed a late point from Danielle O'Leary to earn a 1-9 to 1-8 success.
They are set to renew acquaintances once again next weekend as Waterford play host to the League champions in the opening phase of the Munster SFC. Despite feeling they are more than capable of tackling the challenge of Kerry, Hogan acknowledged their forthcoming opponents are now one of the top teams in the land.
"They're one of the biggest teams in the competition. They've made absolutely incredible progress in the last few years. Winning Division 2 last year and then being in the All-Ireland Final, they're definitely one of the teams to almost look up to."
Overall, it was a positive League campaign this spring for both Hogan and Waterford. Thanks to three wins and one draw over the course of seven games, Pat Sullivan's side finished fifth in the final Division 1 standings.
This year has seen Hogan being entrusted with dead-ball duties and she repaid the faith shown in her by kicking 27 points from frees to supplement the 0-4 she contributed in open play.
In a sense, Hogan has felt like a rejuvenated figure in 2023. After breaking her ankle and her fibula in July 2021, she missed the remainder of Waterford's TG4 All-Ireland SFC campaign as well as Ballymacarbry's latest successful defence of their senior county title.
While she returned to feature prominently for Waterford in 2022, it wasn't until recent months that Hogan believes she truly rediscovered her best form.
"Last year was an up and down year for me because in 2021 I broke my ankle and was out for six months. I almost used last year as a getting back moment. I was kind of just finding my feet. Definitely this year has been a much more positive year.
"It probably would have been easier if I went straight into club (in 2022). The way it fell, I was straight back into the league, which was obviously a tough time because you're not as fit or as skilful as you were before I broke my ankle. It was difficult to come to grips with that, but I got there in the end."
That said, in addition to helping the aforementioned Ballymacarbry claim their 41st consecutive Waterford SFC crown in 2022, Hogan also secured Munster honours in the colours of the country's oldest Ladies Football club last November.
Although her parents allowed Kellyann to carve her own sporting path, she has been a part of the furniture in Ballymac for quite some time. It is a club that has housed several Waterford LGFA legends over the years, many of whom have served as an inspiration for young stars such as Hogan.
"There's so many role models in the club like Linda Wall, Michelle Ryan, Mairead Wall, Aileen (Wall), Karen (McGrath). The list is kind of endless. Even going back further, Áine Wall has her own programme there on Laochra Gael.
"The thing is, my parents didn't even really push me to play football. They were just happy to bring me where I wanted and supported me with every team I played with. Plenty of driving when I was younger anyway. I'd say they've never been so happy for me to get my driver's licence!"
In fact, Hogan now finds herself on the road quite a bit as she commutes to Waterford training in Dungarvan every Tuesday and Friday from UCC - where she is currently a third year finance student.
Even though she finds the distance between the two locations (approximately 50 miles) manageable, she admitted it could get more hectic after her eventual graduation from the Cork-based third level institution.
"I was on placement in KPMG there last semester and got a graduate programme with them in either Cork or Dublin. I'd say my commute could be getting a bit longer as the years go on! I think I'm just offered a location and then have to pick where I'm given, but we'll cross that bridge when we come to it."
Until then, Hogan's mind will be focused on what she feels will be one of the most open TG4 All-Ireland senior football championships in a number of years.
"I feel like Meath really opened up the championship for a lot of teams there. Coming up from intermediate to senior and then winning senior straight away is incredible really. It just shows, if you put in the hard work you can get over the line. The same with Kerry coming from Division Two to Division One, winning Division One. It's inspiring stuff really," Hogan added.
Most Read Stories