'It was my first year away from a Roscommon set-up in nearly 20 years'
April 15, 2023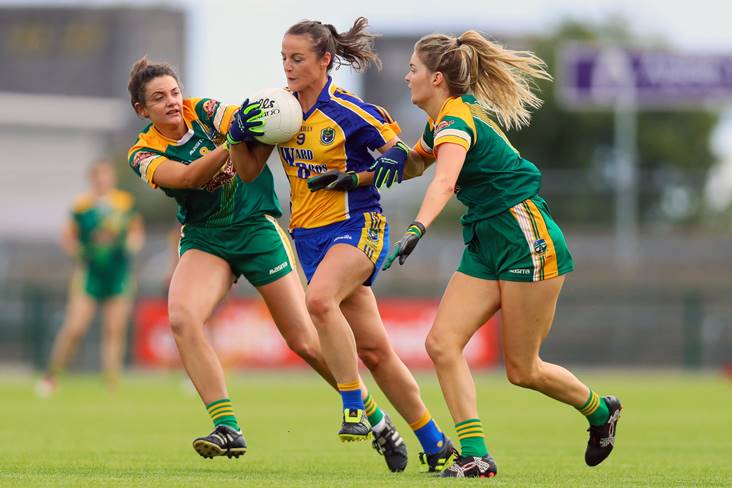 Roscommon's Jenny Higgins in possession against Meath. ©INPHO/Tommy Dickson.
By Daire Walsh
It had been a huge part of her life, but for the first time in almost two decades, Roscommon's Jenny Higgins has found herself taking a break from the inter-county game in 2023.
A senior panellist since 2010 - having previously impressed for the Connacht side through the various underage grades - Higgins will be embarking on a new adventure in the coming weeks. Along with Kerry duo Paris McCarthy and Julie O'Sullivan, the 31-year-old primary school teacher has signed up with Sydney Swans for the forthcoming AFL Women's season.
Because she is due to touch down in the southern hemisphere for pre-season training in June, Higgins wasn't able to commit to the Rossies this year and missed out on their recent Lidl National Football League Division 2 campaign. She acknowledged this was a tough decision, but is nonetheless looking forward to joining forces with the famous Sydney club.
"It was a difficult decision because it was my first year away from a Roscommon set-up in nearly 20 years. I would have played the whole way through when I was 12, the whole way up. I've never taken any break really. I was fortunate my club season (with Clann na nGael), we were county champions last year. We ran well into November and even at that stage, I kind of was thinking about taking a year out," explained Higgins, a Glenveagh Homes Gaelic4Girls ambassador.
"When the Swans call came there at the start of December, that kind of cemented my decision. One of the big things for them is that they wanted my leadership and my character in or around the dressing room early on. They wanted me to be there for pre-season. That cemented my decision, I definitely wouldn't have been able to commit to the (Roscommon) season."
Despite not being a part of the current panel, Higgins hasn't completely waved goodbye to Roscommon and is hopeful of featuring for them again at some point in the near future. She is also keeping a toe within the county game as she is currently taking on a coaching role with the Rossies' U14 girls team.
"I've been involved in coaching underage development teams since I wasn't much more than a teenager myself. I think it's hugely important for girls to give back and for senior players to get involved in the coaching. That whole thing of 'if they can't see, they can't be'.
"When they can actually put a face and they get to know the personality of a county player, it's something for them to aspire to. It's something that when you are playing, it's harder to give time too. I'm fortunate that when I have that bit of free time at the moment, I was able to give back to the U14s and I'm really enjoying it."
Indeed, Higgins' commitment to the Roscommon cause was in evidence when she elected to delay her honeymoon in order to line out for her county in their Lidl NFL Division 3 Final showdown with Wexford last year.
Getting her husband Cathal Shine on board wasn't an issue as he was himself a former Roscommon footballer who soldiered with Higgins' older brothers Kevin and Michael in the primrose and blue jersey at different levels. It worked out perfectly in the end for all concerned with Higgins kicking a crucial point as Roscommon defeated their Slaneyside counterparts by the slenderest of margins (0-9 to 1-5).
"We'd been trying to get out of Division 3 for so long, that when the opportunity came of the final being the same weekend as I was supposed to fly out, there wasn't any second thoughts or any thinking about it. It was changing the flights straight away and thankfully my husband is around long enough to know that," Higgins recalled.
"It wasn't even a conversation we needed to have, we were going changing it straight away so we made the League Final. Thankfully it was all worthwhile. We were Division 3 champions and we can look back and enjoy the celebration of that. We flew out that night after the League Final and made the most of our honeymoon then after that."
Higgins has picked up her fair share of honours between club and county - she captained the Rossies to an All-Ireland Minor 'B' Championship crown in 2009 - but one of her favourite memories is from a game where there was no silverware on offer. In a TG4 All-Ireland Intermediate championship group stage victory against Offaly in 2020, Higgins reached a landmark 100th appearance for Roscommon.
"Michael Finneran was over the team at the time. We don't really count appearances, but when Michael came in it's something that the lads do. He got them to go back through the archives and see each girl, how many appearances they had. Thankfully that year I was coming near my 100th game and Roscommon were going really well that year as well.
"I have really good memories of that year. It's a huge honour. It's something that you want the rest of the girls on the team to aspire to as well. To reach 100 games with Roscommon, competitive games. It's a testament to your commitment and your passion for the county as well."
Although she will be on the other side of the world, Higgins will be keeping a close eye on Roscommon's progress when the Championship kicks into gear later this summer. Their League odyssey may have ended in relegation, but having reached four of the last five TG4 All-Ireland intermediate championship semi-finals, she sees no reason why the westerners can't feature at the business end of the competition once again.
"We would be a top-four team the last number of years. They have the experience of Division 2. Hopefully that will stand to Roscommon this year in championship and they'll be able to push on to at least a semi-final stage and push on to even a final. You never know, if they keep building the way they're building, who knows the possibilities?" Higgins added.
***
Jennifer Higgins is also a Glenveagh Homes #Gaelic4Girls ambassador. Your club has the chance to win a training session a #Gaelic4Girls ambassador by submitting an online entry. Full details are available at: bit.ly/3LTZXVb
Most Read Stories