Players gather ahead of LGFA National League finals
April 11, 2023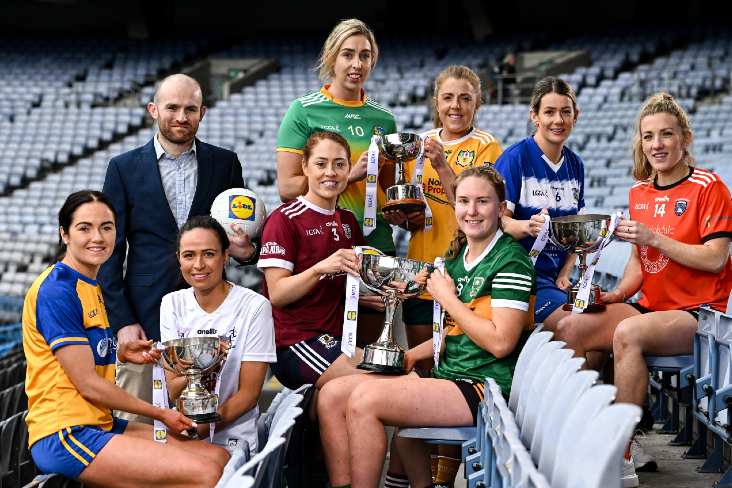 In attendance at a photocall ahead of the 2023 Lidl Ladies National Football League Finals are from left, Sinead Considine of Clare, Grace Clifford of Kildare, Lidl Ireland Senior Partnerships Manager Joe Mooney, Sarah Ní Loingsigh of Galway, Niamh Tighe of Leitrim, Cathy Carey of Antrim, Síofra O'Shea of Kerry, Ellen Healy of Laois and Kelly Mallon of Armagh at Croke Park in Dublin. Photo by Sam Barnes/Sportsfile
Captains and representatives from the eight counties participating in the 2023 Lidl Ladies National Football League Finals gathered at Croke Park today, with their sights firmly set on weekend silverware in the capital.
The Divisions 1 and 2 Finals will form part of a Croke Park double-header next Saturday, April 15, followed by another double bill at Parnell Park on Sunday, April 16, when the champions in Divisions 3 and 4 will be crowned.
Kerry, who will contest the Division 1 decider, and Laois, who are appearing in the Division 2 showpiece, will return to Croke Park following appearances in the 2022 TG4 All-Ireland Senior and Intermediate Finals respectively.
There were mixed fortunes on the day for both teams, with Kerry losing out to Meath, after Laois had defeated Wexford to claim the Intermediate honours.
Next Saturday is all about the Lidl National League Finals and Kerry, the 2022 Division 2 champions, are getting ready for a first Division 1 Final appearance since 2008.
A win for Kerry would see them crowned Division 1 champions for the first time since 1991, and secure a 12th top-flight title in all, but they're up against formidable opposition in the form of Galway, the six-time runners-up who are back in a Division 1 Final for the first time since 2019.
Kerry will be hoping to follow in the footsteps of Meath, who won the Division 2 title in 2021 before claiming the Division 1 silverware last year.
The Division 1 Final, which will throw in at 5pm, will be preceded by the Division 2 decider between Armagh, the 2022 runners-up, and Laois, with this game fixed for 3pm.
This will be a fourth Division 2 Final for Armagh, who were winners in 2015 and 2005, as Laois, winners in 2006 and 2001, look forward to their sixth second-tier decider.
The winners of the Division 2 Final will be promoted to Division 1 for the 2024 campaign, which is a huge incentive for both teams.
Following Saturday's Finals, which are both live on TG4 , attention switches to Parnell Park on Sunday, with the Division 3 and 4 Finals both available live on the Spórt TG4 YouTube channel https://www.youtube.com/c/SportTG4
At 2pm, the action gets underway with the Division 4 Final between Antrim, the 2022 TG4 All-Ireland Junior champions, and Leitrim.
Antrim were Division 4 runners-up in 2014, 2016 and 2019 and will hope that it's a case of fourth time lucky against Leitrim, who are gearing up for a third Division 4 Final, following defeat in 2021 and victory back in 2010.
The winners here will be promoted to Division 3 for the 2024 season, with the Division 3 champions earning promotion to Division 2.
The Division 3 Final, at 4pm, is a meeting between Clare and Kildare.
Clare were relegated from Division 2 last year but now have the chance to bounce back at the first attempt.
Clare were Division 3 champions previously in 2011 and 2006, while Kildare, runners-up in 2021 and 1999, are gunning for their first Division 3 title win.
Galway and Kerry were represented today by respective captains Sarah Ní Loingsigh and Síofra O'Shea, with captains Kelly Mallon (Armagh) and Ellen Healy (Laois) present on behalf of the Division 2 Finalists.
Clare vice-captain Sinéad Considine made the trip to Dublin, where she was joined by Kildare captain Grace Clifford ahead of the Division 3 Final, while Antrim captain Cathy Carey was joined by Leitrim vice-captain Niamh Tighe ahead of their Division 4 clash.
Ticket details for all four games are available by visiting the Ladies Gaelic Football Association website https://ladiesgaelic.ie/
2023 Lidl Ladies National Football League Finals:
Saturday April 15
Lidl NFL Division 1 Final – Galway v Kerry; Croke Park, 5pm – Live on TG4
Lidl NFL Division 2 Final – Armagh v Laois; Croke Park, 3pm – Live on TG4
Sunday April 16
Lidl NFL Division 3 Final – Clare v Kildare; Parnell Park, 4pm – Live on Spórt TG4 YouTube
Lidl NFL Division 4 Final – Antrim v Leitrim; Parnell Park, 2pm – Live on Spórt TG4 YouTube.
Most Read Stories