Cavan ladies withdraw from league clash against Tyrone over expenses row
March 26, 2023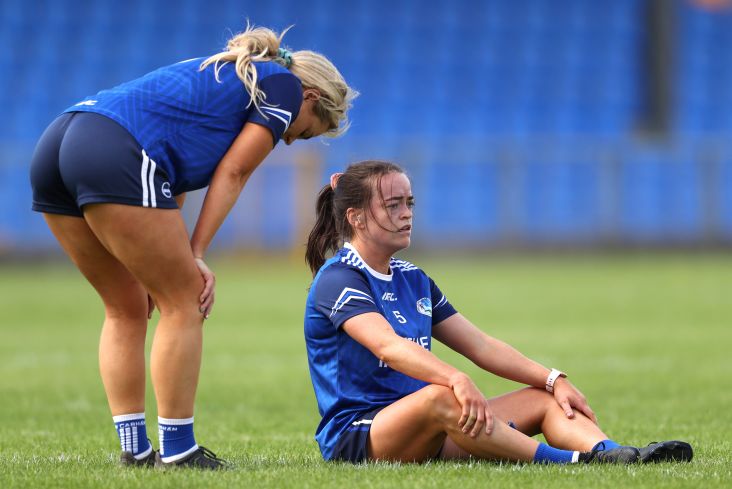 Cavan's Mona Sheridan and Sinead Greene dejected after their team's 2022 All-Ireland SFC Group A defeat to Mayo ©INPHO/Tom Maher
The Cavan ladies football team have pulled out of this afternoon's Lidl National League Division 2 game against Tyrone amid an expenses row with their county board.
The Breffni women were due to play the Red Hands in what was effectively a dead rubber clash at Newtownstewart today at 2pm.
However, with their on-going dispute with the county board still not yet resolved, the team has made good on its threat to strike from earlier this week and the Gaelic Players Association released the following statement on the squad's behalf this morning:
"To the clubs and supporters of Cavan ladies football. It is with deep regret that we will not fulfil today's Lidl National League Division 2 fixture against Tyrone," it read.
"As you are most likely aware, a written agreement that we signed up to in good faith with our county board has not been honoured.
"We have made numerous attempts to have the minimum standards set out in the agreement adhered to but unfortunately this has not happened.
"While there has been positive engagement since the issues involved were brought to light, we now want to see it backed up by action and these minimum standards finally implemented.
"We are not prepared to play until the issues have been fully resolved as we have been let down as regards promises and commitments previously.
"We communicated our position to the County Board Executive yesterday. We have subsequently been informed and are aware of the potential consequences of not playing.
"We want what's best for ourselves and girls playing club football in Cavan now who will some day line out for our county. The girls and women in Cavan deserve to have promises kept and to be treated with respect. It's imperative we protect those who are most vulnerable, including student members of our squad.
"We are proud to represent our county and pull on the Cavan jersey. Taking a decision to withdraw from a game is not something we do lightly. However, given the current circumstances, we feel we do not have any other option.
"We hope you, the clubs and supporters of ladies football in our county will understand our decision.
"We hope the issues can be resolved to allow us get back to what we want to do, represent our great county.
"We apologise to our fellow players from Tyrone for any inconvenience caused.
"The Cavan senior ladies football panel."
Most Read Stories