Maynooth EC net perfect 10 to claim All-Ireland PPS Junior B title
March 25, 2023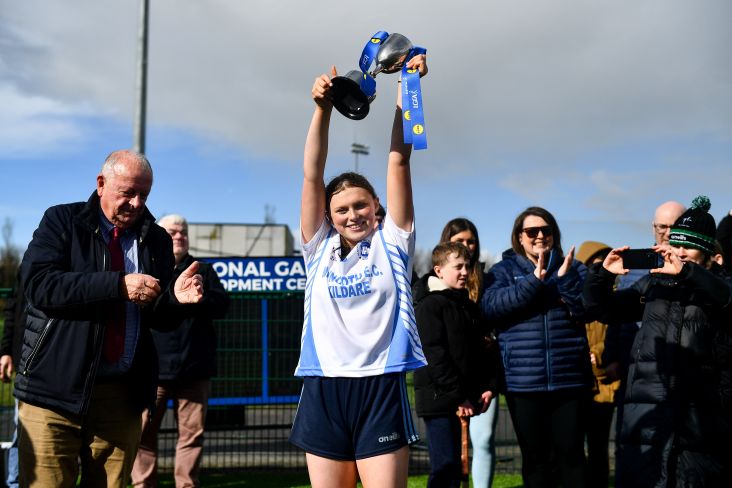 Casey Noone of Maynooth lifts the cup her team's Lidl LGFA Post Primary Junior B final victory St Ronan's College Lurgan, Armagh, at the GAA National Games Development Centre in Abbotstown, Dublin. Photo by Ben McShane/Sportsfile
Maynooth Education Campus 10-6
St. Ronan's College 4-7
by Aisling Clery
Aoife Murnane turned in a Player of the Match performance as Kildare's Maynooth Educate Together were crowned Lidl PPS All Ireland Junior B Champions against a talented St. Ronan's College side at the GAA National Games Development Centre, Abbotstown.
While St Ronan's from Lurgan, Armagh, enjoyed a purple patch in the opening minutes, it wasn't long before Maynooth EC put their stamp on the game, with Aoibheann Birchall and Hannah Merrick both finding the net early on.
St Ronan's did find the net themselves in the opening half, with Aoibhin Donohue netting a hat trick of goals, including two penalties.
However, Maynooth EC proved stronger and Eimear Behan, Poppy Byrne and Merrick all found the net as they were ahead by two points (5-02 to 3-06) at the break.
The second half was a cagier affair as both sides sought to shore up their defences but the Maynooth attacking line proved too good. A fine solo run from Murnane found the net while a minute later Aoibheann Birchall got her second goal, which ended the game as a contest.
Poppy Byrne, who finished with 3-2 in total, hit a brace of goals as Maynooth went on to celebrate their All Ireland success after their defeat in the Junior C Championship decide last year.
SCORERS: Maynooth EC: P Byrne 3-2 (1f), A Birchall 2-2, H Merrick 2-0, A Murnane 2-0, E Behan 1-1, I Lambert 0-1.
St Ronan's College: A Donohue 3-0, C Henderson 1-1, E Moore 0-2, O McAlinden 0-2, L McAlinden 0-1 (1f), A Lavery 0-1 (1f).
Maynooth EC: E Leavy, A O'Riain, G Munro, E McNally, E Heflin, C Noone (C), K Gormley, H Merrick, M McDonagh, A Murnane, E Behan, A Birchall, K Flynn,P Byrne, I Lambert.
Subs: E McIver for Gormley (36), L Martin for Lambert (56)
St. Ronan's College: E Drake, C French, E McCavigan, E Stevenson, A McGibbon, A Delaney, K O'Toole, E McCafferty, O Campbell, L McAlinden, A Donoghue, E Moore, C Henderson, A Lavery, O McAlinden (C).
Subs: A O'Hara for Drake (8), A McDonald for McCavigan (22).
Ref: Sinead McHugh (Dublin).
Most Read Stories