"Sure I'll meet him and we'll have it out"
August 20, 2019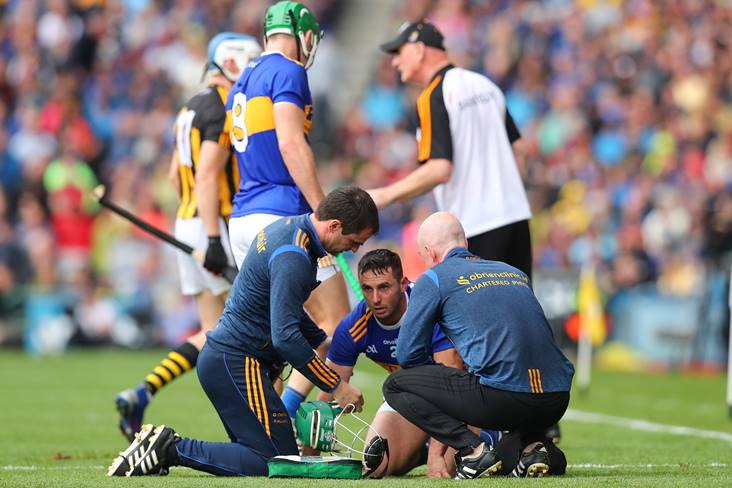 Tipperary's Cathal Barrett receives treatment. ©INPHO/Ryan Byrne.
Cathal Barrett has hit back at Jackie Tyrrell for suggesting he made a meal of Richie Hogan's controversial foul on him during the All-Ireland final.
A massive turning point arrived when Hogan was correctly sent off by referee James Owens for catching Barrett on the jaw with his elbow in the 33rd minute of Sunday's clash at Croke Park.
Cats legend Tyrrell said that Barrett "went down way too easy" and "made an awful lot of it" but the Tipperary defender insists this is total nonsense:
"Jesus, Jackie, that's a bit harsh. I'm surprised at him. I got hit in the jaw – what does he want me to do?" he asks The Irish Daily Star.
"I was a little dazed. It wasn't my decision. The doctor had to assess me. There's nothing I can do. The more I try to get up, I can't. I was a bit rattled so the doctor did assess me.
"The Kilkenny lads are sticking with their own. If Jackie thinks I went down soft, I went down soft. Sure I'll meet him and we'll have it out."
Most Read Stories