Winners of the 2020 Minor Special Recognition Awards announced
January 21, 2021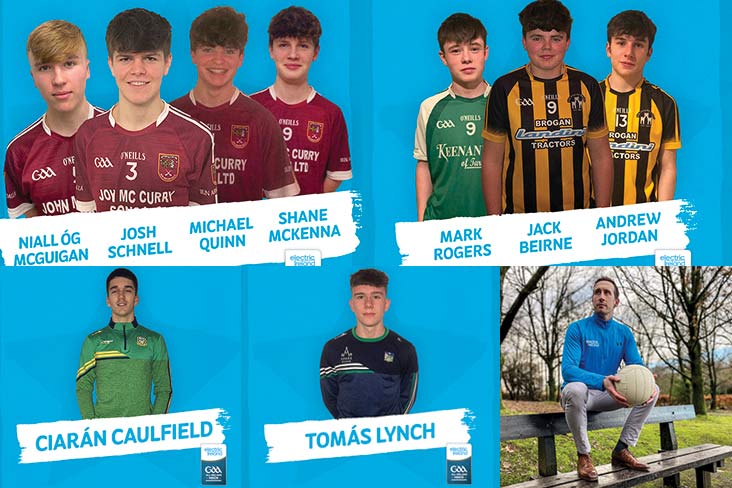 Michael Quinn, Josh Schnell, Shane McKenna and Niall Óg McGuigan (Ulster), Jack Beirne, Andrew Jordan and Mark Rodgers (Connacht), Ciarán Caulfield (Leinster) and Tomás Lynch (Munster), with Former Tyrone footballer, Colm Cavanagh.
The winners of the 2020 Electric Ireland GAA Minor Special Recognition Awards, which sees Minors from all four provinces of Ireland being honoured for their outstanding off-the-pitch contributions in their communities during 2020, have been unveiled.
Having missed out on a host of coming-of-age moments over the past 11 months, including the culmination of the Minor Championships, these unique Electric Ireland GAA awards have taken into consideration the difficulties experienced in 2020 by players and communities across the country, and aim to bring a major moment back into the lives of this age group. The awards were judged by All-Ireland winning Tyrone Minor, Colm Cavanagh, former Minor Kilkenny forward, Aidan Fogarty and representatives from the GAA and Electric Ireland.
Ulster
Antrim's Michael Quinn, Josh Schnell, Shane McKenna, and Niall Óg McGuigan from Ruairí Óg Cushendall GAA club have been awarded the Ulster Minor Special Recognition Award for their brave efforts in saving the lives of a young family who had gotten into distress while swimming on the beach. In June 2020, the four teenagers from St. Killian's College had been enjoying a day at White Park Bay when they noticed the young family had gotten into difficulty while in the water. Thinking quickly and courageously, the boys rushed into the water and successfully prevented a certain tragedy.
Connacht
The Connacht Minor Special Recognition Award has been awarded to Strokestown GAA's Jack Beirne and Andrew Jordan and St. Barry's GFC member, Mark Rodgers for their outstanding efforts in raising over €60,000 for the Childhood Cancer Foundation. Jack himself is a childhood survivor of Leukaemia and had benefitted from the Childhood Cancer Foundation's services. As part of a Transition Year project, Jack, Andrew and Mark purchased an old tractor in the hopes of restoring it and selling it, with the proceeds going to the charity. When word spread around the community of the project, people from Roscommon began donating parts to help support the cause. The project went from strength to strength, and they began selling raffle tickets for the now fully restored tractor, which will be raffled off in early 2021.
Leinster
Meath Minor and Trim GAA wing back, Ciarán Caulfield, is the Leinster winner of the Minor Special Recognition Award for organising a 500km socially-distanced run, which helped raise vital funds for the heart-warming 'Do it for Dan' campaign, which was set up to raise funds for one-year-old, Daniel Donoher so that he could receive life-saving treatment for a rare spinal disease. In March 2020, Ciarán's school team, St. Patrick's Classical School Navan, qualified for the final of the Paul McGirr Cup however, due to the outbreak of Covid-19, the final was ultimately cancelled. Ciarán, who was captain of the team, realised morale amongst his teammates was quite low and saw the fundraiser as a chance to lift the spirts of his teammates and friends, while also raising vital funds for 'Do it for Dan'.
Munster
Limerick Minor and Doon GAA goalkeeper, Tomás Lynch, has been honoured with the Munster Minor Special Recognition Award for becoming a mentor and coach to the students of Doon C.B.S. in Limerick. The Transition Year student from Scoil na Tríonóide Naofa was unable to take part in his Work Experience programme in September 2020 due to Covid-19. Determined not to stay at home and miss one of his key learning experiences though, Tomás reached out to his former primary school, Doon C.B.S., for outdoor work experience opportunities. The school's principal was delighted that Tomás was able to take the students every Tuesday for hurling sessions, and the students were extremely engaged in the sessions and Tomás also put together training programmes for the students to follow at home.
Most Read Stories