All-Ireland SFC final tops Irish sport TV ratings in 2020
January 17, 2021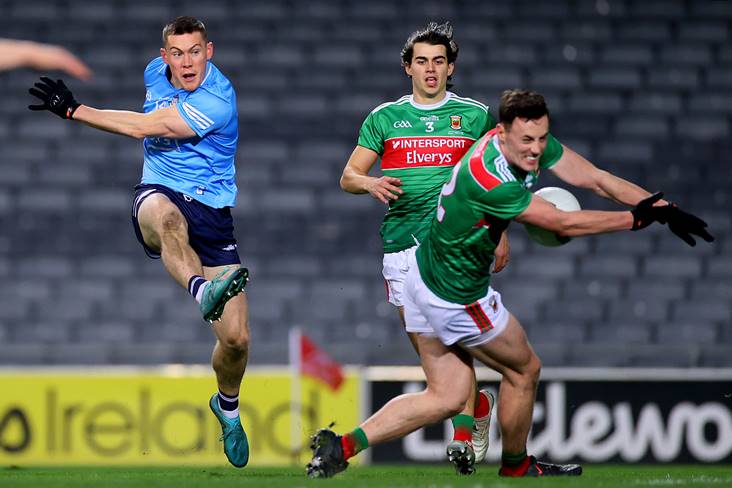 Dublin's Con O'Callaghan is blocked by Diarmuid O'Connor of Mayo. ©INPHO/James Crombie.
The All-Ireland SFC final was the most watched live sports event on Irish television last year, with RTÉ's coverage of Dublin's historic six-in-a-row win over Mayo being watched by an average of 877,000 viewers.
60% of those watching television at the time were watching the Sam Maguire Cup decider on RTÉ Two.
The All-Ireland SHC final between Limerick and Waterford came in third, attracting an average audience of 713,000 viewers, a 61% share.
The Limerick-Galway All-Ireland SHC semi-final and the Mayo-Tipperary and Dublin-Cavan All-Ireland SFC semi-finals also feature in the top 14.
The figures below were produced by TAM Ireland.
The most watched live sports events in 2020
1. All-Ireland SFC final: Dublin v Mayo (RTÉ Two) – 876.6k viewers
2. Six Nations: France v Ireland (Virgin Media One) – 850.3k
3. All-Ireland SHC final: Limerick v Waterford (RTÉ Two) – 712.9k
4. Six Nations: Ireland v Scotland (Virgin Media One) – 635.8k
5. Six Nations: England v Ireland (Virgin Media One) – 634.4k
6. Six Nations: Ireland v Wales (Virgin Media One) – 605.2k
7. Euro 2020 playoff semi-final: Slovakia v Ireland (RTÉ Two) – 570.4k
8. Six Nations: Ireland v Italy (Virgin Media One) – 540.6k
9. All-Ireland SHC semi-final: Limerick v Galway (RTÉ Two) – 534k
10. All-Ireland SFC semi-final: Mayo v Tipperary (RTÉ Two) – 533.2k
11. Autumn Nations Cup: Ireland v Wales (RTÉ Two) – 510.3k
12. All-Ireland SFC semi-final: Dublin v Cavan (RTÉ Two) – 505.3k
13. Autumn Nations Cup: England v Ireland (RTÉ One) – 510.3k
14. The Boys In Green (March 16) – 479k
Most Read Stories