What they said … the weekend in quotes
September 16, 2019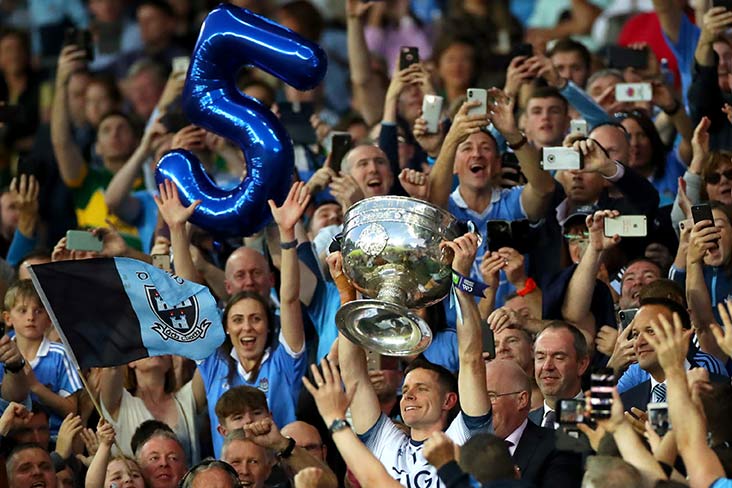 The drive for 5 is complete as Dublin's Stephen Cluxton lifts the Sam Maguire Cup
"I can't remember what happened with the goal, I just went for it and wanted to see what happened."
Dublin's unlikely goal scoring hero Eoin Murchan on that decisive score.
"It was a sickener of a goal to concede just after half-time."
It's a score that will haunt Kerry boss Peter Keane over the winter months.
"That's the most special feeling I have ever felt in my whole life. So emotional."
Man of the match Ciaran Kilkenny revelled in the scale of his team's achievement.
"People say football doesn't really matter. No, it absolutely highlights how much sport matters and how special what we have managed to do is."
The joy that Dublin's all-conquering heroes brought to the patients in Crumlin's Children's Hospital reinforced Jack McCaffrey's belief in the power of sport.
"I'm sure every Dublin supporter will be hoping tonight that Jim continues on but, you know what, he may have decided it's time to walk away. You just wouldn't know. There was a sense around Dublin in the build-up, this could be – will he go out on top?"
Jim Gavin's future as Dublin manager was the subject of speculation in the RTE studio post-match and Ciaran Whelan thinks he may bow out on a high.
"I have committed to next year so we'll reflect in a couple of weeks' time."
As for the man himself, Jim Gavin was just intent on enjoying the five in-a-row moment.
"Those players that play for Dublin have the best opportunity to be the best they can be. If other counties are going to catch up, they need to provide the same assistance in so many ways off the field of play."
Sky Sports pundit Peter Canavan threw the gauntlet down to all the pretenders to Dublin's throne.
"I will never again watch an All-Ireland final sober. After four pints of stout, one sees the game in deeper, more meaningful light."
Joe Brolly didn't miss his TV duties!
"Isn't it some testament to the older group of our players. That was an absolute war out there today. And all the scraps, but if you look at the key scraps in that game they were won by the older players."
Dublin's leaders stood up and were counted, according to manager Mick Bohan.
"To only concede six scores in a match and especially against Dublin you'd expect to win a game but they are worthy All-Ireland champions and congrats to them on the three in-a-row."
Galway manager Tim Rabbitt was magnanimous in defeat.
"To come from where we did this time last year, the depths of depression. It has been a fantastic recovery from them all, recovery from the management. They are back up where they belong. They know they can compete at senior level."
Tipperary bounced back from the disappointment of relegation in style and manager Shane Ronayne is excited about what the future holds for his talented team.
"You go up to the changing room this year and it is full of joy. As individuals they are a phenomenal group."
Darren Bishop and Louth went one step further than last year.
Most Read Stories