Fogarty: Systematic fouling is "killing our game"
June 10, 2021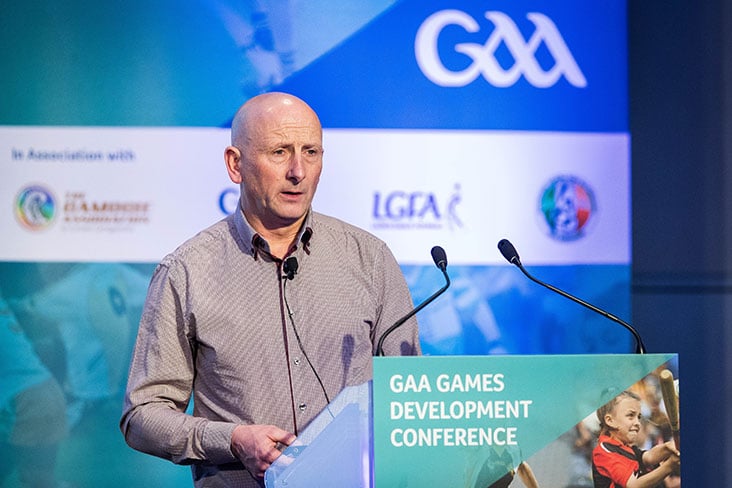 National hurling development manager Martin Fogarty.
The GAA's national hurling development manager Martin Fogarty believes systematic fouling is "killing our game".
There has been much criticism in recent weeks over the application of new playing rules in hurling and the state of the small game.
Fogarty, who served as a selector under Brian Cody with Kilkenny from 2005 to 2013 during which time the Cats won six All-Ireland senior hurling titles, has now weighed into the debate.
Writing on GAA.ie, the Castlecomer native called for coaches and managers to focus on improving their own practices rather than blaming referees.
"It amuses or irritates me, I am not sure which, to hear people complain about the frees and the stoppages but when their own teams and players are getting fouled, they are dancing and jumping, raising hands to heaven, and shouting all sorts to the referee. It is like, it is ok for my team to pull and drag, hold and slap, but when these things are done to my players then it is not ok," Fogarty said.
"People need to stand up and be counted. Either it is ok to hold an opponent's hurl, or it is not. If it is ok, then change the rule and see what happens! If it is not ok, then stop coaching players to do so, otherwise take the consequences if your players are caught fouling, which is a free and usually a point at top level and stop whingeing about the referee.
"Is it ok to drag or hold an opponent's arm, shoulder or hip? If the majority think it is, then fine let's change the rules and watch our beautiful game disappear and become more like rugby where it is ok to do these things. Is that what the 'purists' want?"
He added: "Pulling and dragging, holding and slapping is not physicality. It is fouling! It is lazy and it is killing our game. It is a poor player's solution to not being able to cope with a better opponent."
Most Read Stories