Ulster GAA volunteers play a key role in vaccination programme roll-out
June 10, 2021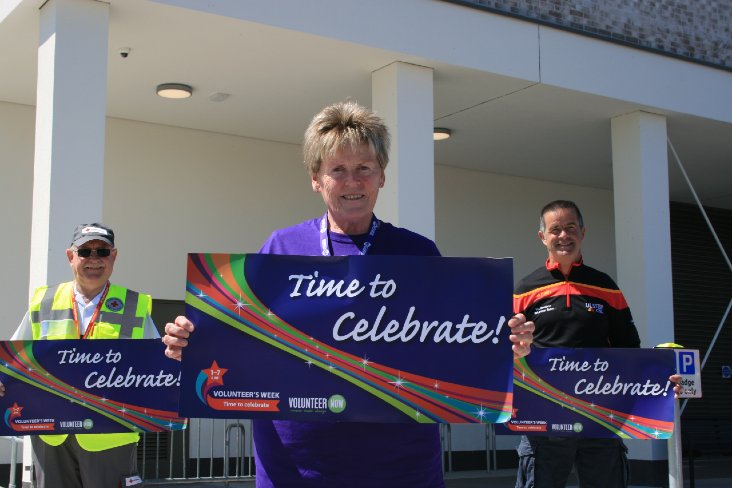 Ken Patterson, Eileen Carlin and Ian O'Hagan
Volunteers from Ulster GAA, Volunteer Now and British Red Cross have been thanked by Health Minister Robin Swann MLA for their role in helping to deliver Northern Ireland's biggest ever mass vaccination programme over the past six months.
Vaccination support volunteers were commended for their tireless work since Christmas. Daily volunteer involvement has enabled mass vaccination centres to function smoothly, safely and with a high level of practical and emotional support for members of the public coming in to receive their Covid-19 vaccination.
Health Minister Robin Swann said; "I cannot praise all those involved in the vaccination programme highly enough. It has been a massive logistical undertaking and has seen over one million of our citizens receive at least one dose of vaccine in just five months. Volunteers have played a key role within the vaccination teams and they should all be very proud of the contribution they have made. As Health Minister, I would like to put on record my sincere thanks to all of them."
Working on behalf of the Department of Health and the Public Health Agency and along with the Health and Social Care Trusts, the voluntary and community sector partnership has seen volunteers deployed seven days per week, 12 hours per day, across six NI vaccination centres, spanning all NI Health Trust areas from December 2020 to June 2021.
Diarmaid Marsden, from Ulster GAA's Club and Community Development team said; "Ulster GAA are delighted to be involved in this unique volunteering partnership with Volunteer Now and British Red Cross. The response to our call for volunteers from our grassroots GAA club members has been fantastic, and from January they have all been instrumental in the safe roll out of the vaccination programme. GAA clubs have been to the forefront of localised community responses since the start of the pandemic, and it is no surprise that club members have put their hands up to volunteer as part of this collective effort."
Denise Hayward, Chief Executive of Volunteer Now explained how an innovative Voluntary and Community Sector collaboration enabled sufficient numbers of volunteers to be mobilised to support the 7 days a week vaccination rota; "We were delighted to support the vaccination centres with British Red Cross and Ulster GAA. Each of our organisations involve large groups of volunteers and by working in partnership we are pleased to have been able to offer volunteers the opportunity to be part of this important work."
Sharon Sinclair from the British Red Cross thanked the charity's long-standing Emergency Response volunteers and their newly recruited Community Reserve Volunteers, many of whom wanted to help out while they were on furlough; "Red Cross has always been a volunteer-led organisation, right from our creation 150 years ago. We responded to the 1918 'flu pandemic and it has been a privilege to watch the compassionate response of our volunteers since the start of Covid-19. We've seen communities step up to help their neighbours in their time of need, which is the very essence of volunteering and Red Cross has been honoured to help facilitate their humanitarian response."
Ulster GAA is currently recruiting new volunteers for their Vaccination Volunteer Team across all centres: Omagh, Enniskillen, Craigavon, Derry, Ballymena and Belfast. These positions are for 18years+ and full information is available at www.ulster.gaa.ie/vaccinationvolunteer or contact Sharon Haughey-Grimley by email [email protected]
Most Read Stories