New business behind Cavanagh's retirement decision
September 24, 2020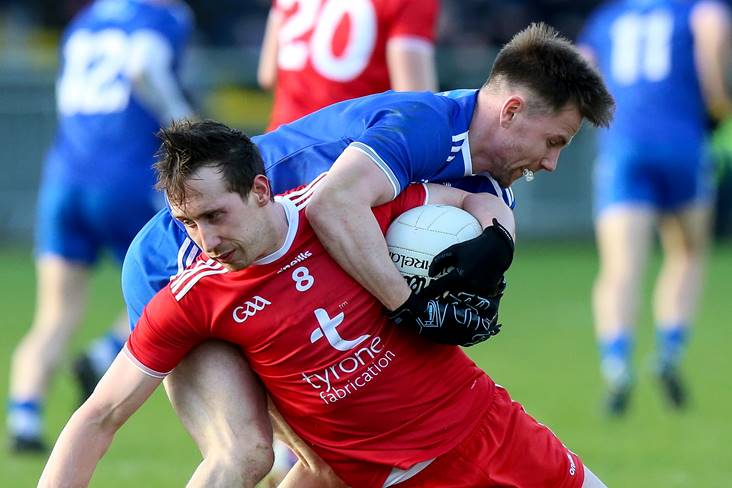 Monaghan's Karl O'Connell with Colm Cavanagh of Tyrone. ©INPHO/John McVitty.
Colm Cavanagh says frequent business trips have been a big part of his reason for calling it a day with Tyrone.
The 33-year-old announced his retirement from inter-county football this week after 13 seasons with the Red Hands and, speaking to RTE Sport, he outlined his reasons for doing so.
"A lot of people may look at the timing of my retirement and ask, 'why is he going now at this stage of the season?'" said the 2008 All-Ireland winner.
"But the truth is I will be away a lot with the new business, I will be in London pretty often, and I didn't want to be going up to Mickey (Harte) in a few weeks telling him that I was pulling out.
"Over the recent past I wasn't 100% on this decision to retire, a part of me felt that my time could be managed and another part of me feels there will definitely be a new All-Ireland winner this year, and I have no doubt that Tyrone will be right up there. So, I needed to reconcile that in my head – would I be comfortable watching the lads if we won the All-Ireland."
He continued: "But the truth is I would be delighted for them if they did win. And from my perspective a new business really needs total focus in the first 24 months, and I have a young family to look after as well.
"I played earlier in the league and the body was going ok, but since then my knee has become an issue as well and that will be a long-term issue. So, with all of that going on, I don't think I would have been able to give Tyrone 100% and that would have been no good for anyone."
Most Read Stories