Skryne GFC scoop Kellogg's GAA Cúl Camps on-pack competition top prize of €25,000
September 24, 2020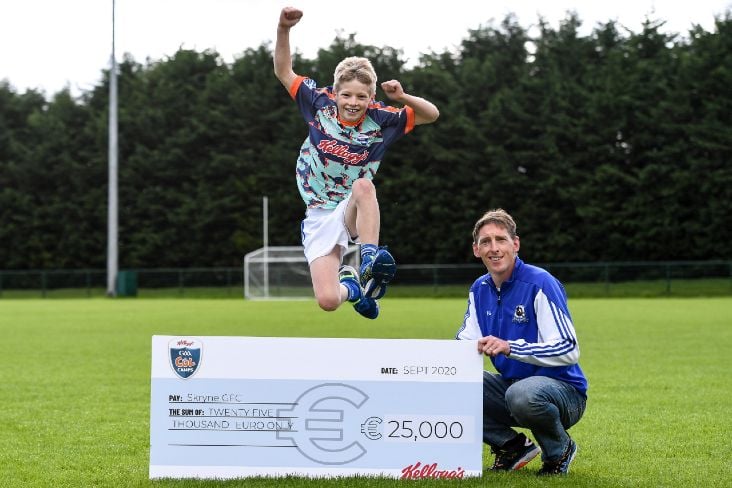 Oisin Giles, age 10, and former Meath football and Skryne GFC coach Trevor Giles. Photo by Matt Browne/Sportsfile
Skryne GFC, Meath has been boosted with fantastic news that it has claimed first prize in the 2020 Kellogg's GAA Cúl Camps on-pack promotion, winning a game-changing €25,000 for the club. Wicklow's Rathnew GAA club has scooped €10,000 in second place with Newmarket on Fergus GAA club, Clare winning third place with €5,000. Kellogg, now in its ninth year sponsoring the Kellogg's GAA Cúl Camps, held the nationwide on-pack promotion for all GAA clubs during the summer.
The winning clubs were chosen by draw to culminate the summer-long promotion in conjunction with the Kellogg's GAA Cúl Camps. During a year where fundraising has been restricted and funds limited, the overall prize fund of €40,000 will provide the winning clubs with very welcome support when looking to invest in the club.
After an uncertain start to the summer, 71,699 children attended Kellogg's GAA Cúl Camps at 667 camps throughout the country. With participation levels understandably lower this year due to limited availability, the camps proved a real success giving children across the country a chance to socialise and exercise outside. A Cúl Camps first was also started, TG4 aired the GAA Cúl Camp television programme with over 300,000 viewers tuning in. The television show provided a new innovative way for children across the country to get involved in this year's Kellogg's GAA Cúl Camps through a mix of drills, skills, games, nutrition and wellness.
Ruth Hughes from Kellogg said, "Our partnership with the GAA is very much focused on the grass roots of the association and this year we were very happy to commit our largest ever prize fund of €40,000. We had thousands of entries and we would like to thank everyone who took to time to enter for their club. On behalf of Kellogg, I would like to congratulate our three winning clubs; Skryne GFC, Rathnew GAA and Newmarket on Fergus GAA. This will be a huge boost to them in such a tough year but we are delighted to know that these funds will go back into the local communities and clubs, the heart of the GAA."
A senior club in Meath, Skryne has a rich GAA history and tradition and boast GAA stalwarts, Trevor Giles and Colm O'Rourke as former club players. Commenting on winning first prize, Christy O'Connor, Chairperson of the Underage/Juvenile committee, Skryne GFC said "This is just phenomenal news! We are delighted to learn we had been one of the lucky clubs to win a prize – with fundraising activities curtailed this year, the prize is a huge boost to our club as we strive to maintain activities for the children and wider community. We'd like to say a sincere thanks to Kellogg's and to all the families that nominated Skryne GFC. We've been hosting Kellogg's GAA Cúl Camps in our club for a number of years now - this year's camp was extra special since it came just a few weeks after restrictions eased. The week was a huge success and the smiles and happiness on the children's faces was a joy to see."
Most Read Stories