Bonner not ruling out Odhran Mac Niallais and Paul Durcan playing for Donegal in 2020
October 23, 2019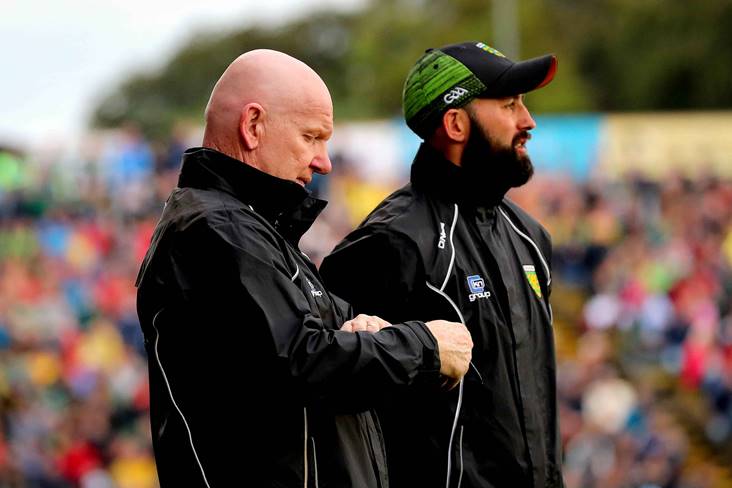 Donegal manager Declan Bonner. ©INPHO/Ryan Byrne.
By Paddy Hickey
Donegal football boss Declan Bonner has not ruled out the possibility of key players Odhran Mac Niallais and Paul Durcan featuring in next year's league and championship campaigns.
Equally adept in a midfield or in an attacking role, Mac Niallais has lined out in just one of the last three seasons for his county to the acute disappointment of Bonner and Donegal fans.
In Durcan's case, the 6ft 5 ins goalkeeper missed the 2016, '17 and '18 championship campaigns on the back of taking up employment in Qatar in late 2015, before returning this year as back-up custodian to Shaun Patton who had taken over between the Donegal posts.
Regarding Mac Niallais, the Gaoth Dobhair clubman elected to take a year's break from top-flight action before making himself re-available for the 2018 season.
But in this year's league and championship programmes, Bonner and his players had once more to make do without the outstanding ability of Mac Niallais in their chase for silverware.
"Odhran was keen to play for the county this year, but he lost a number of friends in a car crash last January and that had a very traumatic effect on him," explained Bonner on Mac Niallais, who is still only 27 years of age and lined out for his club in last Sunday's drawn Donegal county final against Naomh Conaill.
"Obviously at the moment Odhran's football focus is totally on the county final replay on next Sunday, and so I haven't been speaking with him regarding the possibility of him playing with the county in next year's competitions.
"After the replay, I'll give Odhran a bit of time and I'll have a chat with him regarding the possibility of him playing with Donegal once again.
"And hopefully Odhran will make himself re-available as he's a player of real talent and his return would be a huge boost to Donegal's prospects of doing well in next year's league and championship.
"And at his age, he has plenty of time if he wants to play on with the county."
Regarding 35-year-old Durcan, the Donegal boss said: "I hope to have a chat with Paul within the next few weeks and it would be great if he made himself available for us for next year.
"Actually, I haven't heard that any of the players available to us this year are thinking of retiring, so hopefully we will be able to call on all those lads for next year's league and championship."
While the role of an inter-county manager places huge time demands on those holding the office, it's highly unlikely that any of his backroom counterparts are as heavily involved in the GAA as 1992 All-Ireland medalist Bonner.
In addition to his county managerial duties, the former attacking ace has served as chairman of his club, Na Rossa, for the last "five to six years", and, at 54 years of age, he also lined out in goal for his club in two recent junior championship games, a quarter-final win over Urris and a semi-final loss to Letterkenny Gaels.
"We're in the process of laying down a new pitch at the moment, and we hope to have the work finished by next year," he pointed out.
"After that, I'll step down from the role of chairman.
"I played outfield for the club while in my 40s, and I've played in goal a few times over the last few years. We've lost a lot of players through emigration and our regular goalkeeper went to New York a few weeks ago."
A feature of the junior quarter-final was two superb double saves made by Bonner to help his side to a 2-8 to 0-10 win.
Most Read Stories