Camogie All-Star Award Nominations announced
September 18, 2023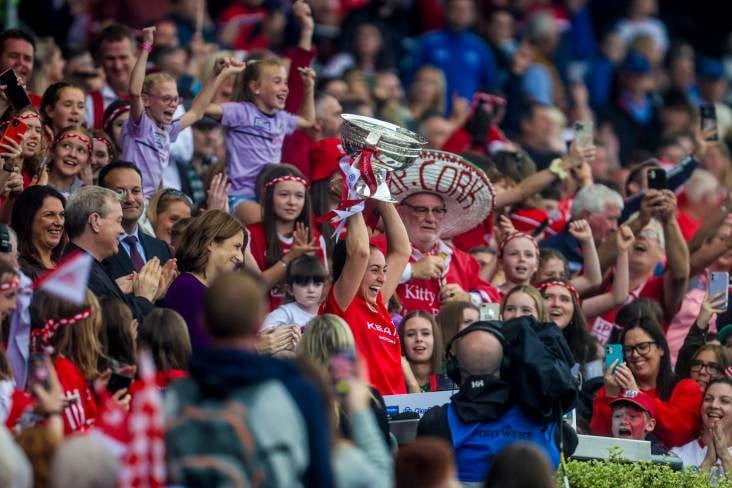 Cork captain Amy O'Connor lifts the Sean O'Duffy Cup ©INPHO/Laszlo Geczo
The nominations for the 2023 PwC Camogie All-Star Awards have been revealed.
Leading the pack are All-Ireland Champions, Cork, with an impressive eleven nominations. Waterford follows closely with nine nominations, while Galway, Tipperary, and 2022 All-Ireland Champions, Kilkenny, also receive recognition with seven, six, and three nominations respectively.
In addition to the team nominations, the PwC GPA Camogie Player of the Year nominations have been announced. These nominations are selected and voted by intercounty players, through the GPA, with the awards sponsored by PwC.
The Camogie Senior Player of the Year category features three players. The nominees are: Amy O'Connor – Cork; Beth Carton - Waterford; Saoirse McCarthy – Cork.
The Camogie Intermediate Player of the Year nominees are: Aine McAllister - Derry; Aoife Ni Chaiside - Derry; Aoife Minogue - Meath.
The Camogie Premier Junior Player of the Year category includes the following nominees: Ellen Casey - Clare; Caoimhe Cahill - Clare; Jean Kelly - Tipperary.
The 2023 PwC Soaring Stars and Manager of the Year winners will be announced on Monday, 25th September.
2023 PwC Camogie All-Star Nominations
Goalie Nominees: Amy Lee - Cork; Brianna O'Regan - Waterford; Fiona Ryan - Galway
Corner Back Nominees: Meabh Murphy - Cork; Roisin Black - Galway; Shauna Healy - Galway; Vikki Falconer - Waterford
Full Back Nominees: Grace Walsh - Kilkenny; Julieanne Bourke - Tipperary; Libby Coppinger - Cork
Half Back Nominees: Karen Kennedy - Tipperary; Keely Corbett Barry - Waterford; Laura Hayes - Cork; Meabh Cahalane - Cork
Centre Back Nominees: Aoife McGrath - Tipperary; Claire Phelan - Kilkenny; Laura Treacy - Cork
Midfield Nominees: Aoife Donohue - Galway; Lorraine Bray - Waterford; Orla Hickey - Waterford; Saoirse McCarthy - Cork; Teresa Ryan - Tipperary
Half Forward Nominees: Carrie Dolan - Galway; Denise Gaule - Kilkenny; Hannah Looney - Cork; Niamh Hannify - Galway
Centre Forward Nominees: Beth Carton - Waterford; Fiona Keating - Cork; Roisin Howard - Tipperary
Corner Forward Nominees: Amy O'Connor - Cork; Annie Fitzgerald - Waterford; Cait Devane - Tipperary; Mairead O'Brien - Waterford
Full Forward Nominees: Katrina Mackey - Cork; Niamh Rockett - Waterford; Siobhan McGrath - Galway
Most Read Stories