Conversation with JP McManus inspired Lowry to help Offaly GAA
April 30, 2021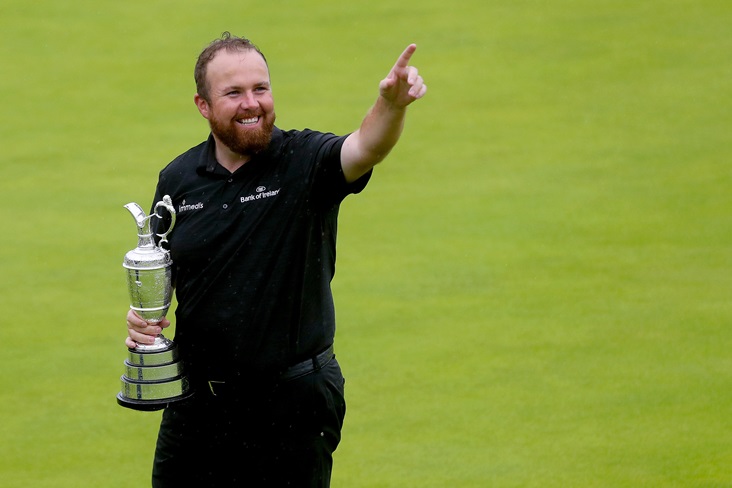 Shane Lowry celebrates with the Claret Jug at Royal Portrush
Shane Lowry has revealed that a conversation with JP McManus inspired him to support Offaly GAA's commercial and fundraising initiative.
It was confirmed yesterday that the 2019 Open Champion is set to become a sponsor of his native county, having approached the county executive himself to get involved.
Speaking to RTE Sport, the 34-year-old revealed that talks with businessman JP McManus, main sponsor to Limerick GAA for the last five years, in the wake of the Shannonsiders' All-Ireland SHC final victory back in December helped him to make the decision.
"It was the evening of the hurling final and obviously Limerick won again," said Lowry. "I'm friendly with Gerry McManus, the younger brother of JP, who is involved in everything down there in Limerick.
"Now, I want to stress that what I'm able to give Offaly is a lot less than JP and his family gives there.
"I sent JP a text saying that I was sure he was very proud with Limerick's win and congratulating him for all he had done for Limerick.
"I did say I would only love to do something for Offaly someday. JP texted back saying that the underage system was where I could help, that's what it was all about. That's where they looked at putting structures in place in Limerick.
"I talked to my dad that Sunday evening. Dad is always passionate about Offaly GAA and we both spoke about us getting involved.
"I text Michael (Duignan, Offaly chairman) then, I'm sure dad did the same, and we got the ball rolling."
He added: "In 10 or 20 years if I could see an Offaly man walk up the steps of Croke Park I would probably die a happy man."
Most Read Stories