"We probably forced Austin back last year"
September 29, 2023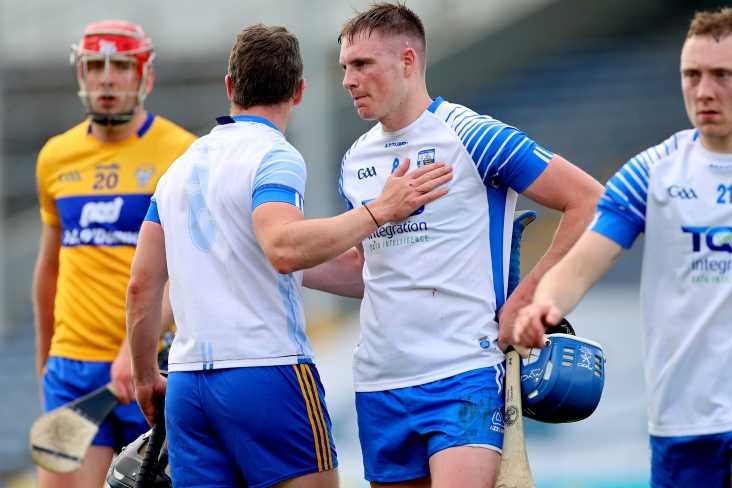 Clare's Tony Kelly and Austin Gleeson of Waterford after the game ©INPHO/James Crombie
Waterford manager Davy Fitzgerald says he has regrets over persuading Austin Gleeson to line-out for the Deise men this past season.
Gleeson confirmed during the week that he would be taking a break from inter-county hurling in 2024 in what is set to be a huge blow for the Munster side.
Speaking on Radio Kerry's Stand Out programme, Fitzgerald admitted that the Mount Sion man was "probably forced" to play with Waterford this year when he needed a break.
"Let's just say that for definite, he's one of the best players I have seen over a number of years," said the Deise boss.
"His talent is incredible. But the big thing for me about Austin is he's actually a really nice guy - he's a good guy.
"We probably forced Austin back last year to be part of the panel and I don't think Austin really wanted to be there himself.
"I think he needed a break and we forced him and the last thing you should do is force someone because you're pushing them to do extra stuff, they get injured easier. I think you have to be 100 per cent ready to go if you're there.
"Austin has been around a long time and maybe I should have listened to him when he said he needed a break.
"Would I like him with us in Waterford? Of course, I'm not stupid, he's a phenomenal talent but you need people really, really saying, 'Yeah, I want to be here'.
"When you have a long time played and given the service that Austin has given, you listen to him, you have to listen to him and I did."
Most Read Stories