"It's really important to raise awareness around this topic"
March 25, 2023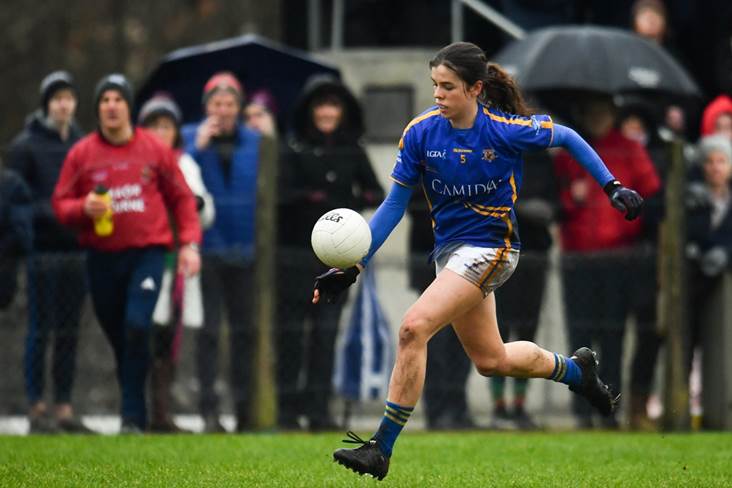 Anna-Rose Kennedy
By Daire Walsh
It has been a hectic 2023 thus far for Anna Rose Kennedy, but with things moving at a nice pace on and off the field of play, the Tipperary footballer is more than happy for it to be that way.
In addition to starting five of the Premier County's six games to date in Division 2 of the Lidl National League, the industrious Kennedy captained DCU Dóchas Éireann to a Yoplait O'Connor Cup title at the University of Galway Connacht GAA Air Dome a fortnight ago.
A student teacher in the Dublin-based third level institution, Kennedy is currently on a placement at Ardgillan Community College in Balbriggan. Studying the subjects of PE and biology, she is hoping to move into a full-time position when she graduates from DCU later on this year.
"I have probably never been as busy in the last four years as I am right now! Between the League and the O'Connor Cup taking place at the same time, it was quite challenging on the body and the mind, to be juggling between the two teams and all the training that was involved with that," Kennedy explains.
"Obviously then on placement as well, it takes a lot of free time from your hands, which obviously has an impact then on your recovery and your nutrition. Overall, I seem to be managing it quite well. It's going well."
As if that wasn't enough, Kennedy was also in Croke Park on Tuesday to help launch the LGFA's 'Take A Second' campaign - an initiative aimed at encouraging and celebrating a culture of positivity and mutual respect among all members of the Association.
"It's really important to raise awareness around this topic. Especially as players ourselves on the field, that sometimes things mightn't be going your way or you might disagree with certain decisions, but it's really important just to step back," Kennedy said of the campaign.
"Take a breath and a second just to think about how you're going to react. What you might or mightn't say, or do. I think it's a great campaign and it was great to be in Croke Park for the launch of it."
Despite returning to inter-county action almost immediately, Kennedy admitted she and the DCU squad are still on cloud nine following their Yoplait O'Connor Cup final success over University of Limerick. Her Tipperary team-mate Aishling Moloney was scorer-in-chief when the Metropolitan college won top honours in the competition back in 2018 and Kennedy was pleased to be following in her footsteps.
"It was great. The weekend was an amazing opportunity for all the girls. I think there was five DCU teams involved in the weekend and thankfully ourselves on the O'Connor Cup team managed to win the Final. I suppose we've been celebrating since!
"It was always a goal of mine to win an O'Connor Cup. Being captain this year just made it extra special. This is all thanks to our management team and the number of years that have been put into the Ladies Football team in DCU."
Although their 3-14 to 1-13 decider victory was an obvious highlight, the very start of the Yoplait O'Connor Cup also proved memorable for Kennedy. At their home ground of St Clare's on February 8, DCU kick-started their campaign with an accomplished triumph against UCD - who were captained by Kennedy's sister, Caitlin.
"That was nice. We wouldn't often be playing against each other. Going up for the toss on match day, it was interesting the two of us now had a nice encounter in the middle of the field."
While she has played camogie across the border with Galbally in Co. Limerick, it is with Aherlow in the Premier County that Kennedy has always played her club football. There are a number of people who acted as guiding lights as she pushed up through the underage ranks of the club and eventually became a bona fide member of the Tipperary senior panel.
"Thanks to my Dad and the likes of Seamie and Johnny Morrissey, who started us off U10, 12, 14 up in Aherlow. Myself, my sister and my brother have always been very close. We always used to play outside the back in all our spare time when we were younger. My Mum and Dad are very supportive of us all, which has been really nice. They don't ever miss a game.
"In terms of looking up to people, in our own club, Edel Hanley was playing with Tipperary when I was younger. I always used to think I'd like to play with her and I think it was 2017 when I got the call to join the panel. I just jumped at the opportunity and haven't looked back.
"I was kind of star struck joining the panel at the age of 16, I think it was. Then you had the likes of Samantha Lambert who was captain and she was fantastic to play with and under. Then obviously Aishling Moloney was another one that I looked up to as well."
With three points separating them from third-place Laois, Tipperary just need to avoid defeat against pace-setters Armagh at Fethard Town Park tomorrow afternoon (throw-in 1pm) to be guaranteed a spot in next month's Lidl NFL Division 2 Final.
The Orchard County are already assured of a place in that second-tier showpiece, which means their Munster counterparts will be looking to set up a quick reunion on their home patch this weekend. After spending three consecutive seasons in Division 1 from 2019 to 2021, Kennedy and Tipperary are aiming for a promotion to go alongside their TG4 All-Ireland Senior Championship status.
"It's great to get a few competitive games in for the League that will prepare us nicely for the Senior championship, but obviously the aim is to be up in Division 1 again. We'd been unlucky, being up and down for the last number of years. Hopefully now this year we'll manage to get up and stay up," Kennedy added.
Most Read Stories