Watch: Brendán Óg Duffy "had a huge, huge future in front of him"
July 17, 2021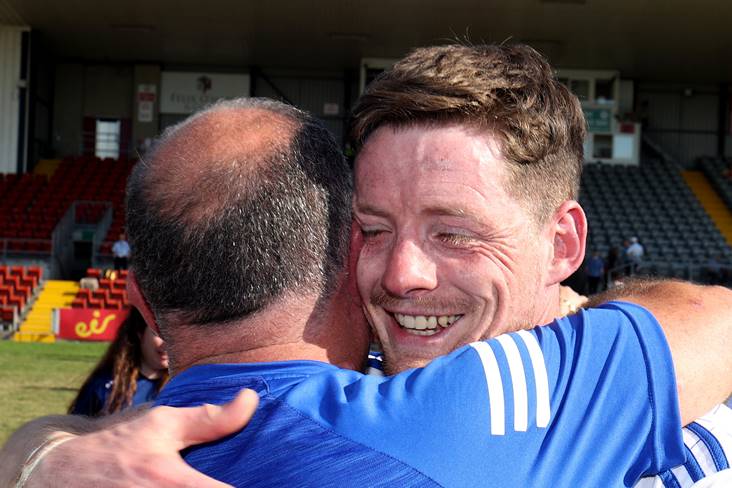 Monaghan's Conor McManus celebrates with manager Seamus McEnaney. ©INPHO/John McVitty.
Monaghan manager Seamus McEnaney paid an emotional tribute to the late Brendán Óg Duffy after his side's thrilling Ulster SFC semi-final victory over Armagh.
The 19-year-old died in a car crash last night after captaining the Farney County to a 3-10 to 1-11 Ulster U20FC semi-final win over Donegal only a few hours earlier
"It's very emotional. It's been a tough week," a grief-stricken 'Banty' said in an interview with Sky Sports.
"We lost my minor captain last night in a car accident. We lost our main sponsor and biggest supporter in Philip Traynor last week. We had to put aside our emotions and feelings to prepare for today's game. We talked about it in our team meeting.
"But my feeling is devastation for Óg Ó Duffy's family and Philip Traynor's family. It has been one of the toughest weeks of our lives.
This will mean a lot to Monaghan football and to this group. We have worked tirelessly to get to where we are. We had a tough 18 months with Covid, the whole country had, but our lads stuck to it."
McEnaney added: "For my personally, it was very difficult. I managed this young fella, he was my captain with the minor team. Only those who have been in the manager position with a captain knows the trust and loyalty that's there. The love that's there.
It was very difficult. I put a lot of homework into it this morning and I came to the group and the group responded really well.
It's devastating news to Monaghan football. This man had a huge, huge future in front of him. He was a brilliant leader."
Most Read Stories