Dowling hopeful underage success can keep Kildare moving forward
June 03, 2023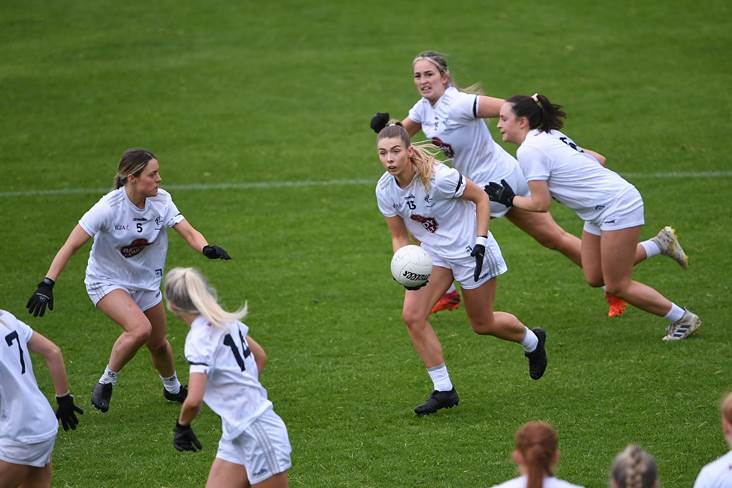 Ellen Dowling of Kildare in the warm-up ©Piaras Ó Mídheach/Sportsfile
By Daire Walsh
Throughout her time as a Kildare footballer, experienced attacker Ellen Dowling has enjoyed a considerable amount of success.
After being part of a Lilywhites side that fell short against Waterford in the TG4 All-Ireland Intermediate Football Championship in 2015, she finally got her hands on the Mary Quinn Memorial Cup just under 12 months later, when the Leinster outfit edged out Clare in a thrilling second-tier decider at the same venue.
Although we have only just entered the month of June, Dowling already has two winners' medals to her name in 2023. Making amends for a showpiece defeat to provincial rivals Laois two years earlier, Dowling and Kildare were crowned Lidl National Football League Division 3 champions courtesy of yet another final win over Clare at Parnell Park in April.
On a high as a result of this triumph, Kildare progressed to a TG4 Leinster Intermediate decider against Wexford at Laois Hire O'Moore Park last weekend, when a 1-1 haul from Dowling helped her side towards a 2-12 to 1-8 victory. This was her fourth intermediate provincial title, following previous wins in 2015, 2016 and 2022, and she perfectly illustrated how much the Kildare squad has changed since those earlier achievements.
"We were only talking about it on the bus on the way down to last Sunday's game. We played here in Leinster in 2016 and Aoife Rattigan, our midfielder, played at half-time with the kids. It's great to see that and getting the young Carbury girls and all that out," Dowling said, referencing the fact that Kildare club Carbury took on Wexford's Clonard Volunteers in an U10 exhibition game during the interval of their clash with the Slaneysiders.
"It's great for them to see us winning silverware and giving them something to strive for in the future. That's kind of the main thing, to keep the underage in Kildare. We've had phenomenal success in minor, U16 and U14 as well. It's just so important for them to see that we're winning silverware and get them up to the senior levels."
While Kildare have ticked a lot of boxes to date in the current inter-county season, there is no danger that Dowling and her colleagues will be getting ahead of themselves. Despite also winning last year's Leinster intermediate final at the expense of Wexford, the two sides subsequently went in opposite directions from there.
Whereas Wexford ended up reaching the TG4 All-Ireland Intermediate Championship decider — losing narrowly to Laois at Croke Park on July 31 — Kildare suffered back-to-back group defeats to Longford and Roscommon, missing out on a knockout round spot in the process.
Even though there is a clear ambition within the Kildare squad to return to TG4 All-Ireland finals day for the first time in seven years, they will have to navigate their way through a group that features Louth and Leitrim. Kildare will kick-start their Group 1 campaign with an away tie against the latter on Sunday, June 11, before playing host to Louth a fortnight later.
"The one thing we believe in is just focusing on one game at a time. We've won two medals now and the aim is obviously to go on and compete in the All-Ireland series. Even from last year, winning Leinster, we've gained great depth in our squad.
"Trina Duggan and Roisin Byrne coming back from nearly career-ending injuries, they have been absolutely massive additions and girls coming up from minor. Ruth Sargent, absolutely phenomenal player and it's just a testament to every single one of the girls out there that we can keep pushing on and hopefully focus on the All-Ireland championship now.
"We played Louth in Leinster, so we know what they're about. They're a good outfit. We haven't played Leitrim in maybe a couple of years. We'll just go back training and see what we can do in the All-Ireland."
An interesting side note to the Leinster intermediate showdown between Kildare and Wexford was the fact that there was a female manager on the sidelines for both teams. In her first season as Lilies boss after originally working as a coach under her predecessor Sean Finnegan, ex-Mayo footballer Diane O'Hora was coming up against her Slaneyside counterpart Lizzy Kent.
Dowling's former team-mate Noelle Earley is also part of Kildare's backroom team and the Suncroft star believes it makes a big difference having these two ladies football stalwarts on board.
"Diane has great experience and she brings that in abundance to us. It's a whole backroom and set-up. Brían (Noonan), Con (Brennan), everyone. What they do with us in training is great. It is great to have female managers in a female sport. We haven't had a female manager before.
"Noelle is just excellent. When you have the quality of her and knowing what she has achieved in her career, it's just unbelievable.
"Even just little confidence boosters that she'll throw at you on the pitch or in the dressing room, she's been there. It's good to have someone of her calibre in the background and it gives you the confidence boost that you need."
Whilst a large bulk of the Kildare squad are either students or teachers, and thus will have a considerable amount of downtime over the course of the championship, Dowling will be striking a balance between football and her job as a process scientist in Pfizer Ireland's base at Grange Castle in Clondalkin.
Yet thanks to the way she arranges her weekly schedule, Dowling is able to commit fully to both and doesn't envisage this changing at any point in the future.
"All the teachers are off now for the summer. I wouldn't mind that now, three months off. I doubt my manager would let me get the three months off for the summer! It's not too bad. I work from home the couple of days of the week that I'm training. I go up there on site, on the non-training days. It's actually not too hard to balance," Dowling added.
Most Read Stories