2023 Ladies HEC All Stars and Rising Stars announced
March 21, 2023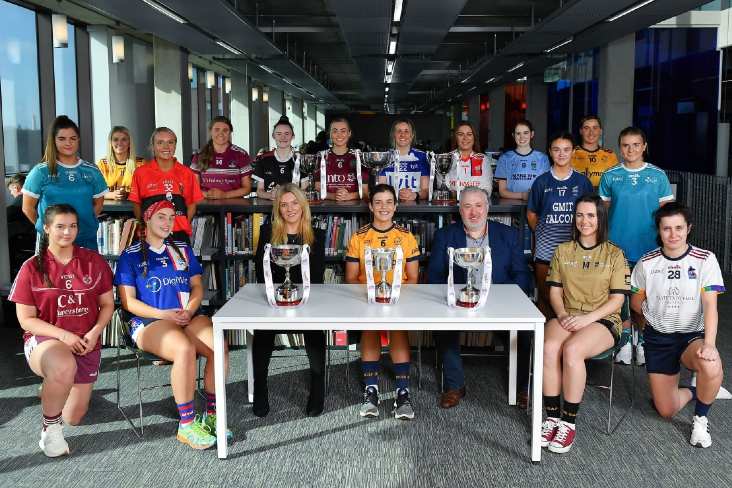 In attendance at the Yoplait LGFA Higher Education Football Championships Media Day are Yoplait brand manager Deirdre Lowry and LGFA HEC Chairperson Daniel Caldwell with players from the competing teams, back row, from left, Eimear Quigley of TUD, Lauren Doyle of DCU, Emma Cleary of UCC, Niamh Daly of NUIG, Roisín Rogers of IT Sligo, Molly McGloin of St Mary's Belfast, Aoife McColgan of LYIT, Aisling Forde of MTU Cork, Meabh Hickey of UCD, Emma Halton of GMIT, Aisling Halligan of DCU and Katie Newe of TUD, with, front, from left, Eimhín Quinn of Marino Institute of Education, Becky Bryant of MTU Tralee, Anna Rose Kennedy of DCU, Shauna Hynes of TUS and Fiadhna Tangney of UL at DCU St Patrick's Campus in Drumcondra, Dublin. Photo by Brendan Moran/Sportsfile
The Yoplait HEC All Stars and Rising Stars have been announced following the conclusion of the 2023 Yoplait HEC Championships.
Seven competitions came to a conclusion over the course of three memorable days at the Connacht GAA Centre of Excellence, with all seven Finals contested at the magnificent University of Galway Connacht GAA Air Dome.
The Yoplait HEC, Lagan and Donaghy Cup Finals were played on Wednesday, March 8, to mark International Women's Day, followed by the Yoplait Moynihan Cup Final on Friday March 10, and the Yoplait Lynch, Giles and O'Connor Cup Finals on Saturday March 11.
Yoplait O'Connor Cup winners DCU Dóchas Éireann lead the way on the Yoplait HEC All Star team with eight representatives, including team captain and midfield dynamo Anna Rose Kennedy from Tipperary and Offaly's Kate Kenny, who was Player of the Match in the Final victory over University of Limerick after contributing a superb individual haul of 1-10.
Elsewhere, DCU DÉ have been acknowledged with the inclusion of goalkeeper Robyn Murray, right corner back Claire Dunne, full-back Laoise Lenehan and left half back Róisín Ennis from a defensive viewpoint.
Further forward, there are also places in attack for Tara Needham and Clodagh Lohan, who flank Kenny in an all-DCU DÉ half-forward line.
University of Limerick have been rewarded with five players after reaching an eighth successive Final.
Dara Kiniry and Erika O'Shea, winning a second successive All Star, are joined by Nicola Ward in defence, with Ciara Needham, twin sister of Tara, listed at midfield.
In attack, there's recognition for current Kerry Senior team captain Síofra O'Shea, who's named at full-forward.
The remaining two positions are taken up by Maria O'Neill, Player of the Match for University of Ulster in the Yoplait Giles Cup Final, and Yoplait Lynch Cup Final Player of the Match Ciara McGarvey from ATU Donegal, with both players named in the full-forward line.
The Yoplait Rising Stars recognise the efforts of players in the fourth, fifth, sixth and seventh tier competitions.
Moynihan Cup Winners DKIT and runners-up ATU Sligo share eight positions on the Rising Stars selection.
DKIT are represented by Ciara Gilsenan, Ciara Mulligan, Niamh Rice and her Louth team-mate Lauren Boyle, who was Player of the Match in the Final after netting two goals.
ATU Sligo have been rewarded for their efforts with Yoplait Rising Stars awards for goalkeeper Lily Vickers, Aoife Morrisroe, Roisin Rodgers and Dearbhaile Lynch.
After winning the Donaghy Cup, TUS Midwest have two players named in the half-forward line, namely Final Player of the Match, Chloe Towey, and Iris Kennelly, who was also selected last year.
Yoplait Lagan Cup Final winners University of Galway, meanwhile, have Final Player of the Match Amy Dunleavy and Ellen Donoghue named on the Rising Stars team.
There are also inclusions for Kaioni Tuipulotu from Yoplait Donaghy Cup Finalists University of Limerick, Eimile Loughran, who starred for Yoplait HEC Cup Finalists Ulster University, and DCU Dóchas Éireann's Molly Carthy, who was Player of the Match in the Yoplait HEC Cup Final win.
The winners will receive their awards on Friday March 31 at The Bonnington Dublin Hotel.
Yoplait HEC All Stars
1. Robyn Murray – DCU DÉ
2. Claire Dunne - DCU DÉ
3. Laoise Lenehan - DCU DÉ
4. Dara Kiniry – UL
5. Erika O'Shea – UL
6. Nicola Ward – UL
7. Róisín Ennis - DCU DÉ
8. Anna Rose Kennedy - DCU DÉ
9. Ciara Needham – UL
10. Tara Needham - DCU DÉ
11. Kate Kenny - DCU DÉ
12. Clodagh Lohan - DCU DÉ
13. Maria O'Neill – University of Ulster
14. Síofra O'Shea – UL
15. Ciara McGarvey – ATU Donegal

Yoplait HEC Rising Stars
1. Lily Vickers – ATU Sligo
2. Amy Dunleavy – University of Galway
3. Aoife Morrisroe – ATU Sligo
4. Ellen Donoghue – University of Galway
5. Ciara Gilsenan – DKIT
6. Roisin Rodgers – ATU Sligo
7. Kaioni Tuipulotu – University of Limerick
8. Ciara Mulligan – DKIT
9. Eimile Loughran – Ulster University
10. Dearbhaile Lynch – ATU Sligo
11. Chloe Towey – TUS Midwest
12. Iris Kennelly – TUS Midwest
13. Niamh Rice – DKIT
14. Lauren Boyle – DKIT
15. Molly Carthy – DCU DÉ
Most Read Stories