"It's been embarrassing from the GAA's standpoint" - Andrews
February 02, 2023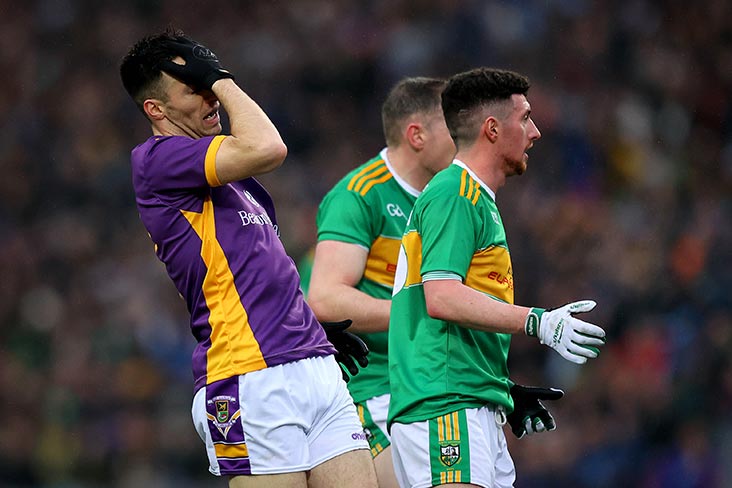 Kilmacud Crokes' Aidan Jones reacts to a missed chance against Glen. ©INPHO/Ryan Byrne.
Former Dublin forward Paddy Andrews described the GAA's response to the All-Ireland club SFC final fiasco as "embarrassing".
This past Tuesday saw the CCCC ordering the game between Kilmacud Crokes and Glen to be replayed just nine days after Crokes recorded the 1-11 to 1-9 victory at Croke Park.
However, with 16 players on the field towards the game's finish, the Dublin champions were found to be in breach of rule 6.44, leading to the decision to replay the decider.
Speaking to Virgin Media about the debacle, Andrews said that the situation has "been embarrassing from the GAA's standpoint".
"I think the major takeaway is this is 10 days later from the club final. It was a bit of a farce at the time on the Sunday evening and it hasn't improved in those 10 days," said the St Brigid's clubman.
"The GAA's handling of this and the leadership from the GAA has been a bit embarrassing to be honest. Anyone who was at the game or watched the game could see within a couple of hours of the final whistle that this was going to be an issue.
"We could see the photo on social media of the 16 players… This has happened before, most famously in the All-Ireland semi-final between Dublin and Mayo in 2021 where there was an extra player on the pitch.
"The 45 was called back and Rob Hennelly subsequently kicks the score and the game goes to extra time and Mayo win. That's the most appropriate way to nip it in the bud there and then.
"The only statement the GAA made in the first three days of this was to say, 'We actually aren't going to do anything here, unless the aggrieved club Glen appeal,' i.e, 'We really hope you don't and this will just blow over.'
"So, it's been embarrassing from the GAA's standpoint."
Most Read Stories