Clones loses out on Ulster final as CCC approves championship schedule
September 17, 2020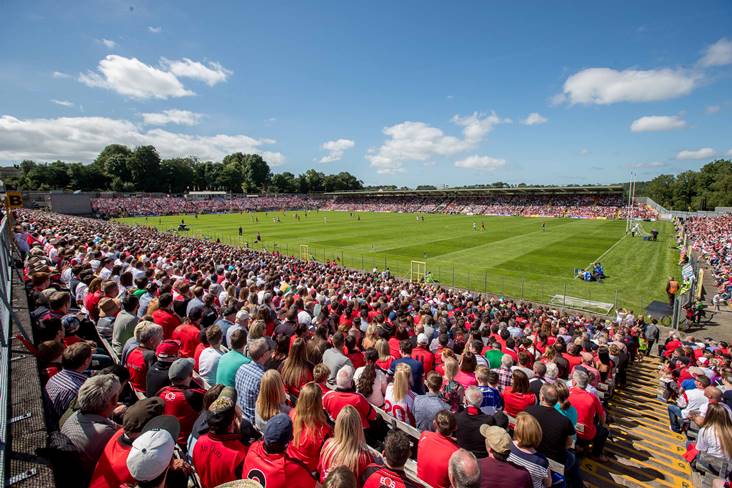 A full house at St Tiernach's Park, Clones for the 2017 Ulster SFC final clash between Tyrone and Down.
©INPHO/Morgan Treacy.
Ulster Council's Competitions Control Committee (CCC) has this morning approved its plans for the 2020 championship.
This year's Ulster senior football championship final will not be held at the traditional venue of St Tiernach's Park, Clones due to a lack of flood lighting at the grounds.
The competition is set to commence on October 31 with the meeting of Monaghan and Cavan, with the final officially fixed for November 22.
The following decisions were taken at the meeting in relation to Ulster GAA fixtures.
Ulster Senior Football Championship
Sat 31st October: First Round
Muineachán V An Cabhán (1.15 pm) at St Tiernach's Park. Clones
Sun 1st November: Quarter Finals
Dún na nGall V Tír Eoghain (1.30 pm) at Pairc MacCumhaill, Ballybofey
Doire V Ard Mhacha (4.00 pm) at Celtic Park, Derry
Sat 7th November: Quarter Final
Aontroim V Muineachán / An Cabhán (1.15 pm) at Corrigan Park* / Kingspan Breffni Park
Sun 8th November: Quarter Final
Fear Manach V An Dún (1.30 pm) at Brewster Park, Enniskillen
Sat 14th November Semi Final
Dún na nGall / Tír Eoghain V Doire / Ard Mhacha (1.15 pm) at Venue TBC
Sun 15th November Semi Final
Fear Manach / An Dún V Aontroim / Muineachán / An Cabhán (1.30 pm) at Venue TBC
22nd November: Final (4.00pm)

Ulster Minor Football Championship
Sat 17th October: First Round
Muineachán V An Cabhán at St Tiernach's Park, Clones (2.00 pm)
Sat 24th October: Quarter Finals
Doire V Ard Mhacha at Owenbeg (2.00 pm)
Dún na nGall V Tír Eoghain at Pairc MacCumhaill, Ballybofey (2.00 pm)
Aontroim V Muineachán / An Cabhán at Corrigan Park* (2.00 pm) / Kingspan Breffni (6.00pm)
Fear Manach V An Dún at Brewster Park, Enniskillen (6.00 pm)
*subject to safety certificate
Sat 31st October: Semi Finals
Dún na nGall / Tír Eoghain V Doire / Ard Mhacha at Venue TBC
Fear Manach / An Dún V Aontroim / Muineachán / An Cabhán at Venue TBC
Fri 13th/Sat 14th/Sun 15th November: Final
Leinster U-20 Hurling Championship Qualifier
Sat 17th October:
Aontroim V An Dún at Venue TBC
Most Read Stories