Dempsey fears Davy exit will cause 'pandemonium' in Wexford
September 23, 2019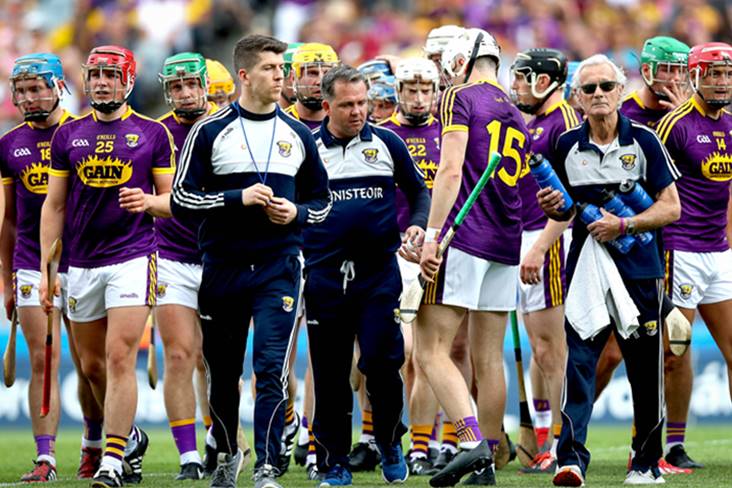 Wexford manager Davy Fitzgerald. ©INPHO/Ryan Byrne.
Tom Dempsey has called on Wexford GAA chiefs to nail down Davy Fitzgerald for another year as speculation continues to grow about his future.
Fitzgerald, who led the Model County to their first Leinster SHC title in 15 years this summer, has been mentioned as a possible successor to Micheál Donoghue in Galway and 1996 All-Ireland winning forward Dempsey admits it would be a huge setback to Wexford hurling were he to leave.
"I really think it's important that they keep him for at least another year. Walking out of Nowlan Park four years ago after a 24-point hammering to Kilkenny, you couldn't have said that Wexford would have a Leinster title four years later," Dempsey said in an interview with the Irish Independent.
"Since Davy came in, we have been very successful in Wexford terms and the bottom line is that there is no ready-made replacement if he decides to not come back. The problem that we would have would be something similar to what Waterford have then.
"Davy has built a system and has the trust of the players, they are very much going in the one direction and it has taken three years to build that. If somebody new came in, they'd come in with new ideas. It wouldn't be a simple job to change systems, change everything and gain trust so it's important for Wexford that he stays at least another year and that they groom someone for the job during that time.
"Some people will say this and that about their system, but if you change that system you could have pandemonium, it could take another 12 months to turn that around and get a new imprint on it so there's a lot riding on Davy."
Most Read Stories