"Whether he has the energy to pursue it, I don't know"
September 17, 2019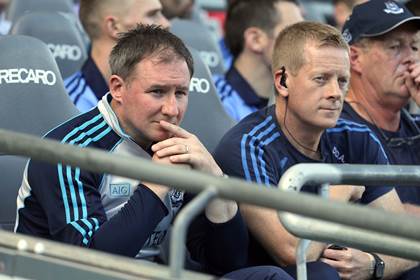 Dublin manager Jim Gavin with selector Declan D'Arcy.
©INPHO/Morgan Treacy.
Selector Declan Darcy says he doesn't know whether Jim Gavin intends to stay on as Dublin football manager.
Darcy has been Gavin's right hand man throughout his success-laden seven years at the Dubs helm. He told The Irish Sun that it remains to be seen if the five-in-a-row winning manager has the energy to remain at the helm:
"These players deserve the very best — and people who have the full energy to drive on," the former Leitrim and Dublin ace states.
"That's what they demand and if you are getting a little tired maybe it's time to go, but at the minute, no, there's no conversation like that.
"Jim leads that work ethic, he's phenomenal. He just works, works, works so hard and he's very diligent. It's taken a lot out of him, so whether he has the energy to pursue it, I don't know."
Most Read Stories