Spotlight should be on players "feigning injury", says Tyrrell
May 18, 2022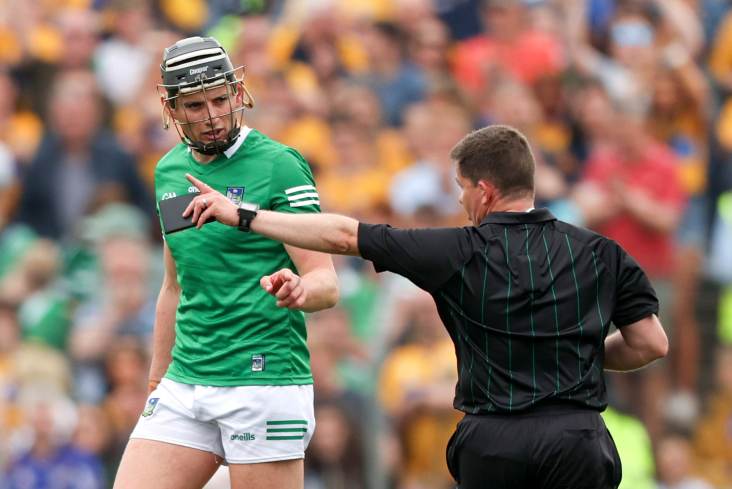 Limerick's Gearoid Hegarty reacts after being given a second yellow card by referee Colm Lyons ©INPHO/Tom Maher
Kilkenny legend Jackie Tyrrell believes the focus should be on players "feigning injury" after the controversial sending off of Limerick star Gearoid Hegarty at the weekend.
The All-Ireland champions are set to appeal the second yellow card issued to the towering wing forward in the latter stages of Sunday's draw with Clare in Ennis.
Hegarty received his marching orders after appearing to swing his hurl in the direction of opponent Aaron Fitzgerald and, speaking on the RTE GAA podcast, Tyrrell sees the Treaty ace as being singled out by referees due to both his size and reputation.
"I thought the big issue was how the Clare defender went down and made out he was shot," he said.
"Gearóid Hegarty is a big physical man, he plays on the edge. Sometimes he fouls, sometimes he doesn't. But he's definitely being watched. He didn't do anything wrong yesterday and somehow he found himself on the sideline. That must be hugely frustrating. He's being spoken about this week and he did nothing wrong.
"It made no sense that he could be booked when he's taking a sideline - which Limerick always do quickly - and David McInerney stood in front of him.
"I think the accountability needs to be on the players that are feigning injury and that are going down and making this bigger than it is."
Most Read Stories