eir sport announces live coverage details of Ladies National League games
February 01, 2018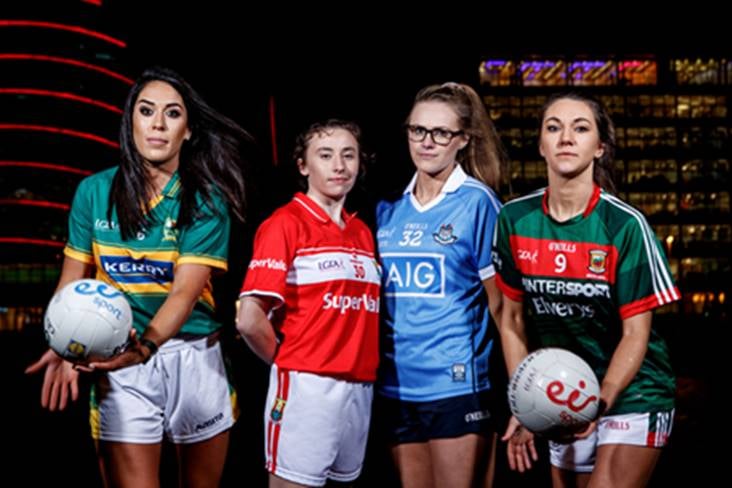 Cork's Melissa Duggan, Dublin's Amy Connolly, Mayo's Niamh Kelly and Kerry's Aislinn Desmond at the announcement of eir sport's live coverage of the forthcoming Lidl Ladies National Football League Division 1 fixtures.
eir sport today announced details of its live coverage of the forthcoming Lidl Ladies National Football League, which will see three mouth-watering games broadcast across three different weekends, with all three games featuring current All-Ireland ladies senior football champions Dublin.
Cork, Kerry and Mayo will also feature in the ground-breaking eir sport agreement with the Ladies Gaelic Football Association (LGFA).    
In a broadcasting first in Ireland, eir sport's coverage of the Lidl Ladies Football League Division 1 encounters between Mayo and Dublin on February 24th and Dublin versus Kerry on March 3rd will be followed by the equivalent clash from the Allianz Leagues with the Dublin men's team making the trip to Castlebar (February 24th) before entertaining Kerry at Croke Park on the following weekend (March 3rd).
Dublin's Amy Connolly and Mayo's Niamh Kelly were joined by Melissa Duggan of Cork and Aislinn Desmond of Kerry to make today's announcement. The action gets underway on Saturday, 10th February, as Dublin face off against Cork in a repeat of the All-Ireland Ladies Football Finals of 2014, 2015 and 2016. 
LGFA CEO Helen O'Rourke commented, "We are delighted that eir sport are screening these high-profile fixtures. Behind the scenes, we have worked incredibly hard to ensure 'double-headers' alongside our male counterparts, which will enable our players to showcase their talents at top-quality venues such as Croke Park and Elvery's MacHale Park. We look forward to eir sport's coverage and for viewers, it's a fantastic opportunity to tune in and watch the cream of our inter-county talent in action." 
Speaking at the announcement, Glen Killane, Managing Director of eir TV and sport commented, "We are absolutely thrilled to add these outstanding fixtures from the Lidl Ladies National League to the overall GAA content offering available on eir sport. We have seen the incredible heights Ladies Football has soared to over the past number of years, and the appetite there is amongst GAA lovers to follow the action which means there is a responsibility on us to deliver that content.
"The addition of these games aligns with our mission at eir sport to offer Irish sports fans the very best GAA content. Ladies Football action along with our extensive Allianz Leagues coverage, our recent successful Club Championship coverage, GAA online clip rights and archive rights means eir sport is establishing itself as the key destination for GAA in Ireland."
The following matches will be shown live:
Dublin v Cork, February 10th at 5pm (eir sport 1)
Mayo v Dublin, February 24th at 5pm (eir sport 1)
Dublin v Kerry, March 3rd at 5pm (eir sport 1)
Most Read Stories