Survey findings show clear support among members for integration of Gaelic Games Associations
September 14, 2023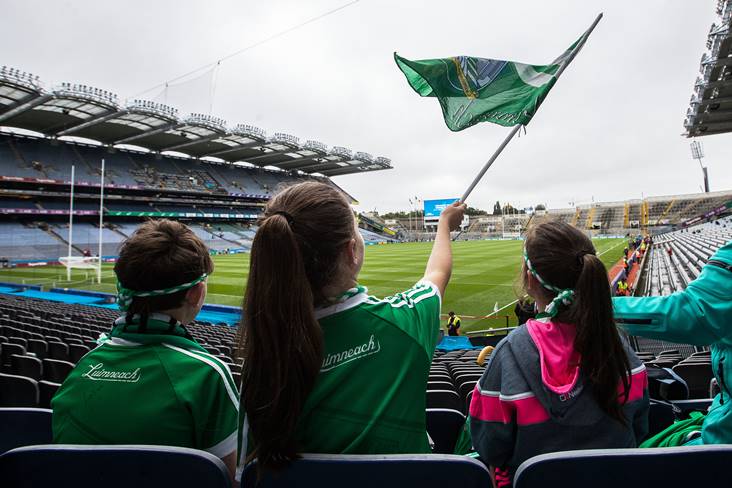 Limerick fans arrive ahead of the All-Ireland SHC semi-final clash against Cork at Croke Park.
©INPHO/Tommy Dickson.
The largest ever membership response to a sports survey in Ireland has given a clear vote of confidence to the path towards integration by the three Gaelic Games Associations.
Commissioned by the Steering Group on Integration (SGI) of the Camogie Association, the Gaelic Athletic Association, and the Ladies Gaelic Football Association, and conducted and verified independently by Behaviours & Attitudes, more than 30,000 members completed the survey.
The initial findings show that 9 out of 10 members "believe integration will be positive for Gaelic Games" with 7 in 10 believing it will be "very positive".
Chair of the SGI, Mary McAleese, has thanked the membership for taking part in such large numbers and for sending a clear message of support.
"We greatly appreciate the time and the effort that people made to take part in this survey and thank them sincerely.
"The significant engagement of more than 30,000 members says a lot about how passionate the ordinary membership of the Camogie Association, LGFA and GAA is about this issue and how anxious they were to have their voices heard.
"The fact that 9 out of 10 members believe that integration will be positive for Gaelic Games sends a very clear message about what their vision for the future is.
"There is work to be done, but there is a mandate there from members who have spoken and who have been heard."
The full findings of the survey are currently being compiled and will be added to the feedback from previous engagements that the SGI has had with volunteer leadership at club, county and provincial levels, representatives of the staff and administration of all three Associations, as well as engaging with players.
The SGI has given itself a deadline of February 2024 for the publication of its integration roadmap.
This landmark research study sought member opinion on
Benefits that members wuld see as a result of integration.
Challenges that members wuld like to see considered and included as part of the integration process.
The key pririties members would deem imperative to focus on post integration.
There was clear representation across counties, age groups, genders and across all codes (CA, GAA and LGFA).
Member feedback spoke to areas such as equality, fixtures, facilities, and finance.
The SGI is currently working with B&A on the final version of the survey responses which will be shared soon to keep members informed.
Most Read Stories