New book remembers former Carlow footballer and hurler, Fr Jimmy Doyle
December 06, 2021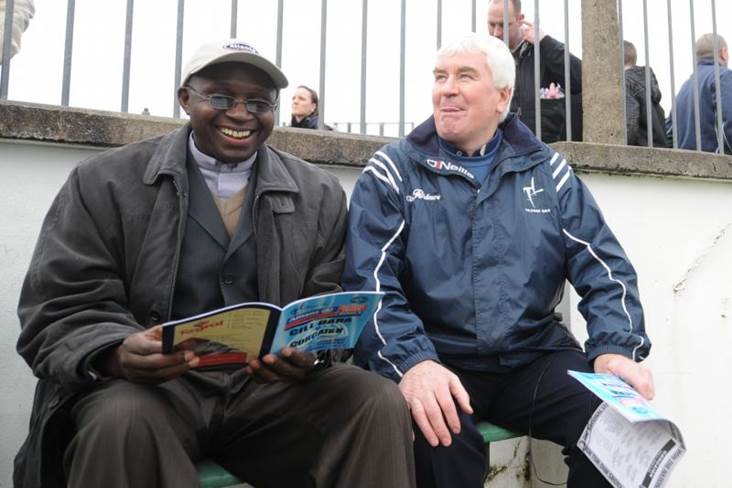 Fr Jimmy Doyle pictured at St Conleth's Park Newbridge with a Tanzanian priest
A number of leading GAA figures have contributed to a new book based on the life of former Carlow footballer and hurler, Fr Jimmy Doyle.
The book entitled 'A Sportsman and A Shepherd' will be published next week and features a collection of heartfelt tributes and insightful anecdotes centred on the late Fr Doyle, a renowned GAA stalwart and hugely popular figure who represented his native county in both hurling and football.
As well as having huge pride in his Carlow roots, Fr Jimmy was also heavily associated with Kildare, having spent much of his four decades as a preiest in Lilywhite territory. Indeed, he was closely involved with Kildare clubs in five parishes where he was based – Kilcock, Newbridge, Naas, Balyna, and Staplestown Cooleragh, serving as Parish Priest of the latter when he sadly passed away in October, 2020.
Included in the list of big names to pay tribute are current Kildare senior football manager, Glenn Ryan, and members of his backroom team, including Anthony Rainbow, Johnny Doyle and Dermot Earley. Chairman of Kildare GAA Mick Gorman has also penned words of appreciation.
Fr Jimmy's Carlow GAA career is brilliantly recollected by former players including Tom Kehoe, George Darcy, Christy O'Neill and Cyril Hughes with an overview by sports journalist Charlie Keegan.
The book also contains tributes by renowned soprano Celine Byrne and Bishops Denis Nulty and Paul Dempsey and a host of others who knew Fr Jimmy and shared in devotion to his faith, sport, farming and life.
A familiar face at hurling and football matches throughout Kildare and Carlow, Fr Jimmy was ordained in 1974 and served in the parishes of Kilcock, Muinebheag, Newbridge, Broadford, Naas, Ballyadams, Sallins and more recently, Staplestown/Cooleragh.
An accomplished hurler and footballer with Kildavin/Clonegal, with whom he won three senior football championships in 1966, '70 and '73 as well as represented Carlow in both codes.
Since his passing, inspired by the huge number of tributes paid to him in the days afterwards, over 50 of Fr Jimmy's friends, colleagues and peers were invited to pen messages of appreciation.
Many more wonderful memories and recollections appear in this wonderful book alongside 150 pictures which brilliantly illustrate his life and times.
The publication, which would make an ideal Christmas present, is available in bookstores throughout Kildare and surrounding areas and is supported by both Kildare and Carlow GAA and by Moorefield and Sarsfields clubs. Proceeds will go to designated charities.
Most Read Stories