Clifford named as GOAL Ambassador
October 14, 2019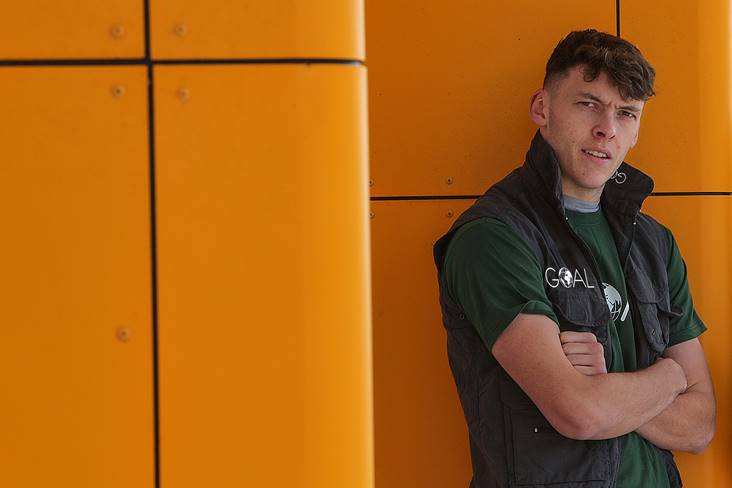 GOAL Ambassador David Clifford.
Kerry football hero and All Stars Young Gaelic Footballer of the Year for 2018, David Clifford, has been named as an Ambassador for humanitarian aid agency, GOAL.
The 20-year-old superstar was announced as a GOAL Ambassador by former Kerry football great and GOAL Board member, Jimmy Deenihan, in Tralee today.
Clifford joins an elite team of GOAL sports ambassadors including Dublin GAA stars Bernard Brogan, Jack McCaffrey and Cian O'Sullivan, rugby star Jamie Heaslip, Olympic hockey silver medallist Róisín Upton and Middleweight boxing champion Andy Lee.
Clifford has shown great determination and commitment to the Senior Kerry football team this year. He was named All Stars Young Gaelic Footballer of the Year 2018 and nominated for the senior All Star Gaelic Footballer of the year at the age of 20.
Having achieved so much at such a young age, Clifford is a role model for children throughout Ireland and GOAL hopes he will inspire the younger generation to be more conscious of global issues.
GOAL works in 13 countries throughout Africa, the Middle East and Latin America providing emergency relief, essential healthcare, nutrition education and developing sustainable livelihoods. Ambassadors play a vital role for the organisation by telling GOAL's story to a number of different audiences - in their own unique way.
Welcoming David on board Jimmy Deenihan said David is inspirational to the younger generation:
'David is a fantastic addition to the GOAL team of ambassadors. There is a strength and determination in him that we feel will add great things to the organisation. It is great to welcome someone who shares GOAL's passion for global issues, and we hope he can inspire so many more people to do the same. David has achieved so much at such a young age and no doubt he will go on to achieve so much more in his career and with GOAL'
Clifford spoke about what it means to be a GOAL ambassador: 'It's great to work with an organisation like GOAL to help with the work they do overseas. I'm looking forward to the opportunities I will have with GOAL and discussing their work with many more people. It's important as a younger player to speak to children and young people about what we can all do to help others and be more aware of issues around the world.'
GOAL works across in a number of areas to engage the public on global matters and raise awareness of the work that is being undertaken in vulnerable countries worldwide. David Clifford is the latest ambassador to join the Irish organisation's list of sports stars. Limerick Olympic hockey silver medallist, Róisín Upton visited GOAL HQ this month to announce her new role as GOAL Ambassador.
About GOAL
Established in 1977, GOAL is an international humanitarian and development agency committed to working with communities to achieve sustainable and innovative early response in crises and to assist them to build lasting solutions to mitigate poverty and vulnerability. GOAL has worked in over 60 countries and responded to almost every major humanitarian disaster. We are currently operational in 13 countries globally.
Most Read Stories