'There's no point in doing all of this if we do not win the All-Ireland' - Murray
November 30, 2020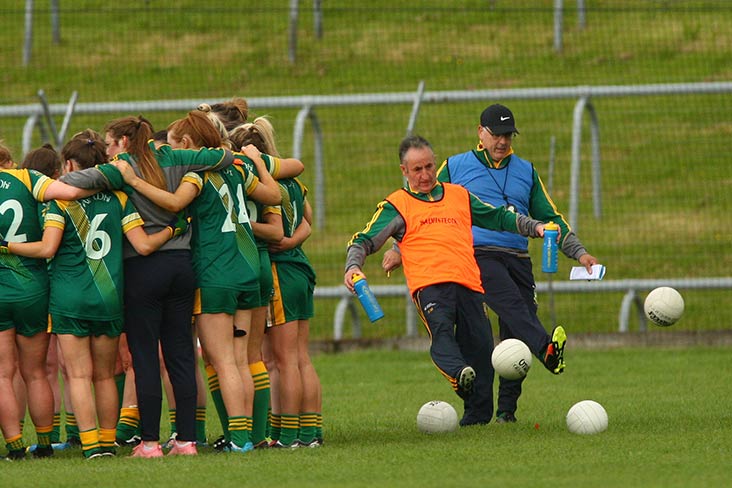 Meath manager Eamonn Murray
By Aisling Cleary
Losing consecutive TG4 All-Ireland Intermediate Championship Finals has been devastating for Eamonn Murray's Meath, but following this emphatic Semi-final victory over Clare, they're back facing the ultimate test again.
Niamh O'Sullivan's excellent early goal, a penalty in each half from Stacey Grimes and Bridgetta Lynch strike after the restart saw Meath wrestle total control of this game.
At the back they were just as impressive. Meath filtered most of their forwards back behind the ball and created an impenetrable shield that Clare rarely broke through – Clare didn't score at all in the second half – but as soon as Meath won the ball back, they countered with incredible speed and efficiency.
"I'm absolutely delighted, an amazing performance. That's the way we were playing before Covid came along and hopefully we will continue on," said Meath manager, Murray.
"They're a marvellous bunch of players, I wouldn't expect anything different from them. But there's no point in doing all of this if we do not win the All-Ireland.
"We will keep our feet on the ground the next few weeks. We kept a very low profile, nothing was said in Meath about it being a semi-final.
"We have three weeks to prepare – keep Covid outside the door and we will be very happy."
Meath's started very well with a point from Emma Troy, and despite Niamh O'Dea's reply, O'Sullivan's goal from a tight angle gave them an eighth-minute lead they never relinquished.
With Vikki Wall playing well as the fulcrum of the Meath attack, captain Máire O'Shaughnessy and Megan Thynne impressed further out the field, but this victory was all built on their collective brilliance in defence.
A foul on Grimes allowed the same player to find the corner with her penalty kick in the tenth minute, and while Gráinne Nolan kicked three Clare frees, Meath extended their half-time lead to 2-6 to 0-4
It was a long way back for Clare in the second-half, but James Murrihy's side had shown impressive fight to emerge from the competitive Group 4. But this time their free-scoring ability deserted them and it was Meath that totally bossed the second-half.
Lynch found the net for a third Meath goal, before Thynne, Aoibhín Cleary and the excellent Emma Duggan all added to their advantage. Grimes' second penalty put the result of the game beyond doubt, which allowed Meath to ease their way to the win.
"We're very disappointed, we didn't perform to where we would have liked," said Clare manager Murrihy.
"Meath's experience told. You can't give space to a team like Meath, who are probably a little further down the road than us. In the first seven or eight minutes we were probably six or seven points down and we gave away a couple of sloppy goals and we were chasing the game.
"The way Meath play, they are a very good counter-attacking team and they punished us for the mistakes that we made."
Most Read Stories