Connacht, Leinster and Ulster PPS competitions shelved
February 25, 2021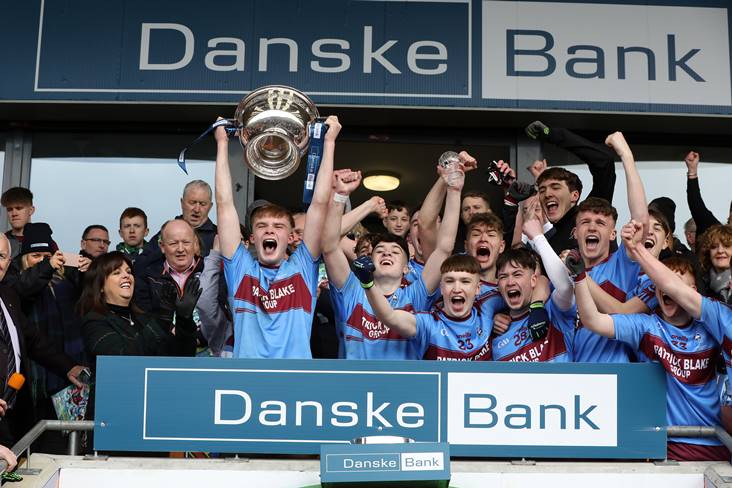 St Michael's Enniskillen captain Brandon Horan lifts the MacRory Cup. ©INPHO/Presseye/Declan Roughan.
The Connacht, Leinster and Ulster Post Primary School GAA competitions will not go ahead this academic year.
The news comes after the Munster PPS Committee announced that all Munster competitions would not be completed due to the current Covid-19 restrictions.
In a statement Ulster PPS said: "Unfortunately Ulster Schools GAA have reluctantly accepted that it will not be possible to complete any formal competitions during the current school year 2020/21.
"We will continue to monitor the situation as the path ahead unfolds and liaise with the relevant authorities whenever possible.
"We remain hopeful that localised, informal activity may be possible later in Term 3 should regulations allow."
A statement from Connacht said: "The Connacht GAA Post Primary Schools Committee has unfortunately had to make the decision to cancel all Post Primary Schools competitions for the remainder of the current school year due to the restrictions imposed by the current pandemic."
Leinster said: "With Level 5 restrictions in place until April and school games only possible when in Level 2, the window to play and complete competitions just will not be there.
"We know this decision will come as a great disappointment to all those hoping for Post Primary Schools GAA activity, but the decision has been made and communicated at this time in order to bring greater clarity to the situation, especially for those students preparing for state examinations."
Most Read Stories