Cummins keen to resurrect Galway career on his return from 10-month stay in Australia
November 21, 2019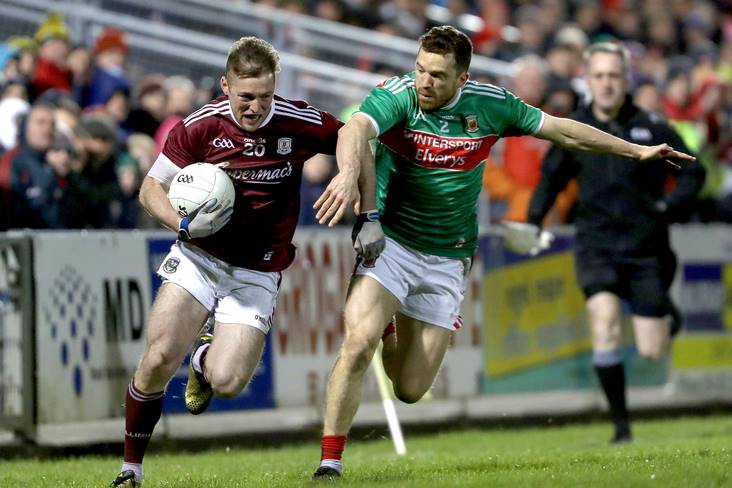 Galway's Danny Cummins and Chris Barrett of Mayo
by Paddy Hickey
Star Galway forward Danny Cummins says he will be gunning to resurrect his inter-county football career on his return from a 10-month stay in Australia.
Along with his girl-friend, Galway camogie panelist Karen Kennedy, Cummins flew out of Dublin Airport yesterday morning on a Paris-bound flight from where the couple will travel on to Vietnam for a four-week stay before arriving Sydney just before Christmas.
And with the Claregalway clubman and Karen planning to stay on in the New South Wales city until next September, new Galway boss Padraig Joyce will have to plan without the experienced attacker for next season's league and championship campaign.
"Johnny Duane is getting married next September and our intention is to come home in time for his wedding," explained Cummins, as he interrupted some last minute packing prior to getting a lift around midnight from Loughrea for the couple's 6.0am flight.
"Of course, that will mean that I won't be involved in any way with Galway in next year's competitions, but hopefully I will get back into the frame for the 2021 campaign.
"For some time, myself and Karen have been thinking of going away and this might be our last opportunity we'll get to do this.
"Obviously I'll miss not playing with Galway next year, but when we come back from Australia I'll still be only 30, and many lads are still playing for their counties when they're 32 or 33.
"So hopefully I'll get re-involved with Galway for the 2021 season. I've already spoken to Padraig Joyce and he's fully aware of my plans, and we agreed to touch base when I come back from Australia next September," added Cummins, who has been a regular on the Galway senior team for the last 10 years, making a total of 80 appearances.
And the pacey corner-forward's prospects for regaining a place in the Tribesmen's set-up will be boosted by the arrangements he has made for shortly after his arrival in Sydney.
"Over the last few months, I've been talking to a number of GAA clubs in Sydney, and joining one of them would obviously help me to keep up my football sharpness and to maintain a favourable level of fitness," he pointed out.
"Alan Costello, who used to play with Sligo, and who is a good friend of mine since our days together at college in Sligo IT, is involved with the Young Irelands club, and there is a strong chance that I will join them.
"It will also be helpful to me that the local championship in Sydney comes to the closing stages in the months of February and March, so it will be a case of me getting straight into very serious competitive football.
"As well as my own football situation, Karen (a member of the Galway camogie senior panel for this year's All-Ireland final win over Kilkenny) intends to play camogie when we're in Sydney and she has already joined up with the Clan na Gael camogie club over there."
Incidentally, experiencing the lifestyle in the bustling east coast city won't amount to a totally new scenario for the Galway attacker.
"This time last year, we went to Sydney on a two-week break and we really enjoyed our stay there," he explained on the 2018 visit.
"So that means that we are really looking forward to being based in the city, and in Australia, for a much longer stay on this occasion."
Most Read Stories