Ulster GAA chief reveals £2m loss in gate receipts
September 29, 2020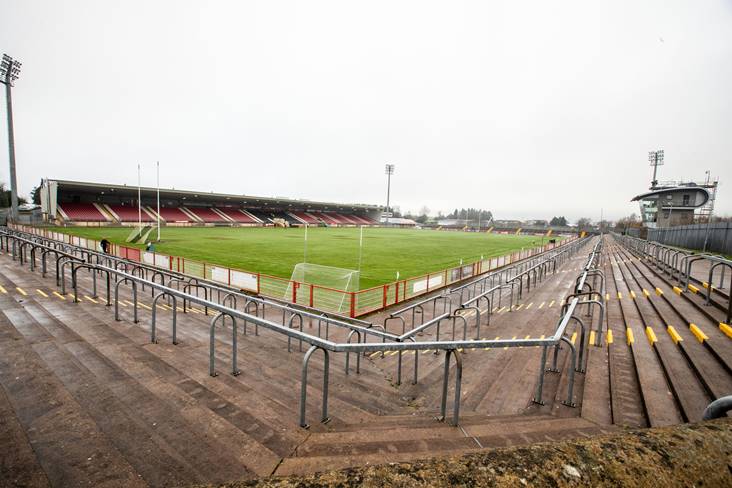 A view of Healy Park, Omagh. ©INPHO/Bryan Keane.
Ulster Council chief executive Brian McEvoy has revealed that the Coronavirus pandemic has cost the northern province more than £2m in gate receipts so far.
Just 400 have been allowed to attend games across the six counties, while a maximum of 200 spectators are allowed into matches in Cavan, Donegal and Monaghan in stadiums that have a capacity of 5,000 or more.
Speaking to BBC Northern Ireland, McEvoy said he's keen to see a discussion to increase numbers at matches as he fears for the long-term effects on the association.
"The Ulster Championship accounts for 80% of revenue that we can actually use for the promotion of GAA, what you would call disposable income - that has gone for the year," he said.
"Of the other 20% of revenues, a lot of that was down to sponsorship or commercial revenues and that has suffered a hit as well.
"We've lost the Ulster club championship and won't have the McKenna Cup. In terms of gate income alone we have suffered a loss of over £2m and it may impact counties and clubs in terms of grants for infrastructure development.
"We can survive this year - if we are in a similar situation next year then obviously there would be more long-term repercussions, but we have taken a massive hit and everything has been affected as a result of it."
He continued: "We would like to see a situation where we are able to allow more people to attend our games. It's a double-edged sword - for us to promote games and help clubs we need spectators, but in order to do so it will necessitate sacrifices and a reduction in the number of Covid cases.
"It's difficult to see a full return of fans to stadia for quite a while, but we are hopeful we can work with he authorities north and south so we can get to a stage where we can see how we can get people safely in and out of grounds and see maybe some relaxation, but it's a very difficult balancing act.
"We have suffered because of Covid and the way numbers are rising it isn't going to improve any time soon."
Most Read Stories