O'Donovan rues loss of O'Connor
August 23, 2019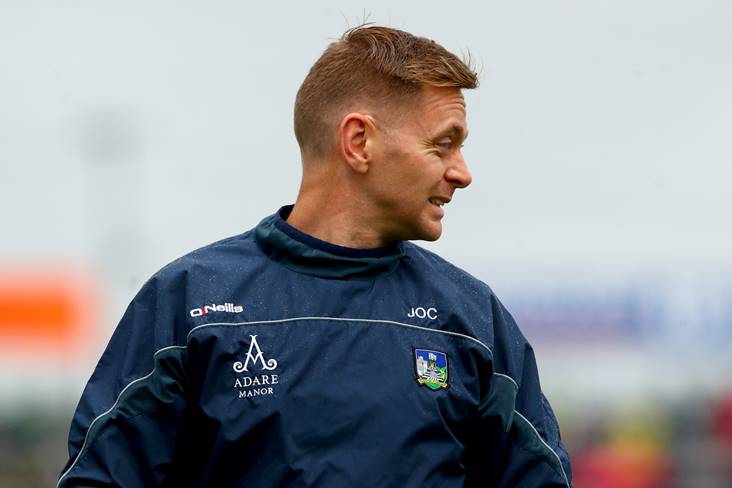 Former Limerick strength and conditioning coach Joe O'Connor. ©INPHO/James Crombie.
Limerick midfielder Darragh O'Donovan admits that Joe O'Connor's departure as strength and conditioning coach has left a void in the Limerick senior hurling management team.
O'Connor has been credited with been an integral part of Limerick's success in recent years and O'Donovan states in the Limerick Leader that it was sad to hear the news.
"It brought a tear to a lot of our eyes, during the week, when we heard the news," stated O'Donovan. "He has been so good to all of us."
"He was the man that brought that professionalism there, that first year. It was great that TJ got him in. It was very cool and like he's gonna be massive loss but, no man is irreplaceable and that is just the way it goes. But we have to drive on now. 2020 is the next chapter. As Cian Lynch said during the week, the 2019 chapter is now closed and 2020 is where we're building to" added the Doon man.
"I suppose we were at a standard that wasn't good enough to be challenging for All-Irelands and things like. Joe brought that standard. I remember one of the first sessions we had with him in Rathkeale. Lads arrived in at 6.15pm and he told us we were late for training at 7pm. That was the standard his was bringing. We bought in massively to the strength and conditioning . You can see the conditioning of the players that are there now is phenomenal. It is up there with the top team. We have body fats of less than 16%, that is incredible for amateur athletes."
Most Read Stories