Junior rounders titles up for grabs as rounders takes centre stage in Abbotstown
August 17, 2023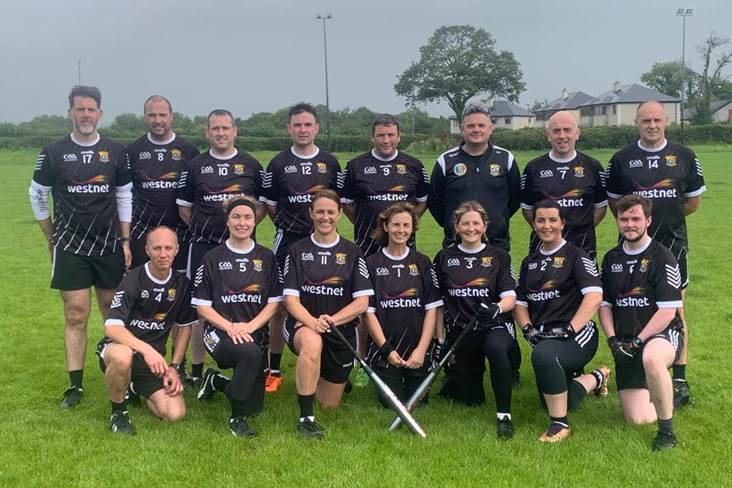 The Kilmeena mixed team
By Jamie Dowling
There is a huge month ahead for GAA rounders as the season comes to a close, with all adult competitions now at semi-final and final stages.
In what should be a brilliant month for the sport, as the cream of the crop will showcase their talents over the next few weekends, the action is unmissable.
The action starts this Saturday as all roads lead to Abbotstown, The National Sports Campus Dublin where the Junior Ladies and Junior mixed teams battle it out to become the first adult champions of the season.
The first game of the day is the Junior Ladies final at 1pm, where Carrickmacross Emmets of Monaghan take on Castletown Liams Mellows of Wexford in which is a mouthwatering clash.
Both ladies' teams are in their second year of the sport and their rise to the top has been a very impressive one this year.
Starting with Carrickmacross, they sailed through their group unbeaten similar to their senior men's team who compete next weekend in the senior semi-finals. They beat Dunderry of Meath, Skyrne of Meath, The Dublin Mets and finished off their group stages with a win against neighbours Drumhowan.
Then last weekend, the women from Monaghan took on Emo from Laois in the semi-finals and produced a stunning comeback after been 10 runs behind and running out eventual winners to set up a final clash against Castletown Liam Mellows.
For the Wexford side they have been impressive also, topping group A, with wins against Emo, Myshall of Carlow and Glynn/Barntown of Wexford. Their only loss came to St Kieran's of Limerick but bounced back as all good teams do and booked a semi-final place against Dublin Mets.
Like their final opponents they too produced a stunning comeback in the semi-finals, in the last innings having been 14-9 down they fought their way back to victory.
This has the makings of a great final. Who will win? It could go either way as both teams are well matched, don't be surprised if we had to go into extra time and extra innings.
Then at 3pm taking centre stage in Abbostown, is an all-Connacht affair where Kilmeena of Mayo take on the Galway City Rapparees of Galway.
Both teams were in the same group and had very different routes to the final. In the junior mixed championship, the groups were regionalised, and their group had sides from Mayo, Galway, and Limerick.
Kilmeena finished second in their group avoiding the play off for the quarterfinals and started their campaign beating Mayo Gaels 17-5 in an impressive display. They then beat eventual table toppers St. Senan's of Limerick with another brilliant display running out winners 22-10.
They then played Galway Rapparees, their final opponents on Saturday and were beaten 20-16, however Kilmeena did enough to finish second and book a quarter-final place.
Next up was the quarter-final stage, where Kilmeena beat Dunderry of Meath and set up a semi-final spot against Inniskeen, where they put in an excellent display winning 19-8 to set up a final spot.
As for their opponents, Galway Rapparees took a roundabout way to the final, they finished third in their group after wins against Mayo Gaels and Kilmeena, a loss to St Senan's meant they would have to go to a play-off round with Carrickmacross to reach the quarterfinals.
They won the play-off comprehensively and booked a place in the quarter final against Fenagh of Carlow, which was a tense affair, but the Galway team narrowly won 7-6.
The win meant they would set up a semi-final against St Senan's where they wanted to avenge their defeat earlier in the year, and they did so by winning 15-14 in another closely fought affair.
This to will be another closely contested final, can Kilmeena turn the tables from their earlier defeat in the season, only time will tell?
The finals are an all-ticket affair the link is as follows https://www.universe.com/events/gaa-rounders-junior-finals-19th-august-abbotstown-ngdc-tickets-9BXKMV
Most Read Stories