Camogie: Hogan double helps Offaly to All-Ireland minor 'B' glory
March 21, 2022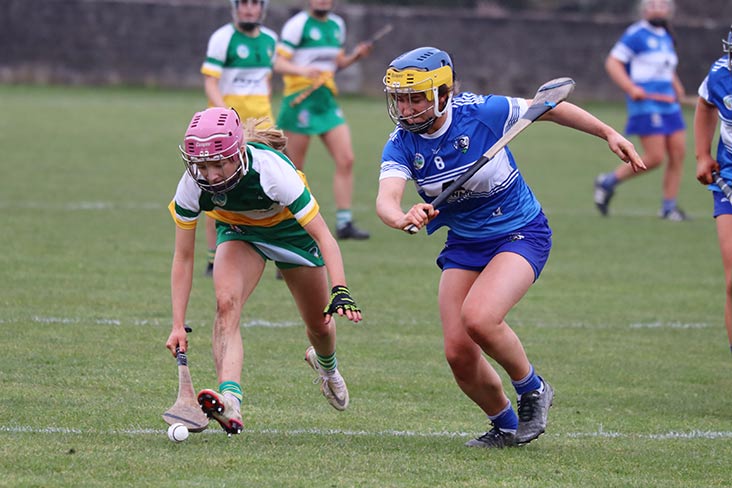 Offaly's Caoimhe Darcy tries to rise the ball under pressure in Sunday's Minor B All Ireland Final (Photo by John Gavin)
Offaly 2-10 Laois 1-12
Report by Sally Hurley
Offaly came out on top after a tough battle with neighbours Laois in a thrilling All-Ireland minor 'B' camogie final in Round Towers GAA Grounds in Kildare on Sunday.
It was a game that went down to the wire and for the last few minutes it was looking like it would be another final replay for the Faithful girls who lost succumbed to Antrim after a replay in 2021. However, the tricolours held their nerve and their back line played a stormer to keep the Laois forwards out in those last few moments. It was a game where both teams had passages of dominance and swapped the lead on a number of occasions. Offaly looked like they were heading to the dressing room at half time four points up after two well executed goals by Naomh Brid's Molly Hogan. However, a well-struck injury-time penalty from Laois' Eimear Hassett left the minimum in it, 1-6 to 2-4, at the interval.
The second half was a very entertaining game with some fine camogie shown by both teams. Laois scored four unanswered points in the first five minutes to open up a three-point lead. However, a free from Roisin Kinsella in the 37th minute followed almost immediately by a lovely point from Faye Mulrooney settled the winners.
The game was end-to-end at this stage with both sides giving their all. Offaly will feel that they should have been awarded a penalty of their own when Molly Hogan was pulled down to the ground on the way to goal but referee Mike Ryan from Galway deemed the Offaly sharpshooter had overcarried and gave a free-out to Laois much to the dismay of the sizeable Faithful following. Roisin Kinsella was having a fantastic game and scored the next three points, with two coming from play. Another point by her Birr club mate Faye Mulrooney helped Offaly into a two-point lead.
An epic battle ensued for the last few minutes, but try as they might Laois were unable to reel Offaly in and added one more point to their tally. It was a great display from Offaly who were determined to make amends for 2021 and fought for every ball to edge an epic contest.
Player of the Match: Birr's Roisin Kinsella was a deserving winner of the Player of the Match award. Her ability to score points at crucial stages from play was the difference between the teams in the second half. She also worked tirelessly with some excellent blocks, all from a player who is still under 16. There are many years ahead for her in the Offaly jersey.
Another player still under 16 is Nicola Cleary from Shinrone, who played at full back and also had a great match, Labhaoise Glynn played brilliantly, making some inspiring runs in the first half and Faye Mulrooney and Molly Hogan were very impressive in the forward line for Offaly.
Offaly scorers: Roisin Kinsella 0-6, Molly Hogan 2-0, Faye Mulrooney 0-3, Sarah Freeman 0-1
Teams:
Offaly: Leah Gallagher, Hannah Feenane, Nicola Cleary, Ciara Maher, Sarah Fitzgerald, Orlagh Phelan (Captain), Katie O'Connell, Cayla Fletcher, Labhaoise Glynn, Caoimhe Darcy, Roisin Kinsella, Chloe Fogarty, Sarah Freeman, Faye Mulrooney, Molly Hogan.
Subs: Emily Conlon, Creagh Lyons, Orla Kilmartin, Fianait Dooley, Sarah Doherty, Aoife O'Donovan, Denise Connors, Kacey Larkin, Grainne Kennedy, Stephanie Mahon, Caoimhe O'Donovan, Eimear Rigney, Caoimhe Quinn, Aine Kennedy, Caoimhe Ginty, Alannah Dooley
Laois: Cara Phelan, Sarah Cuddy, Annabelle Ryan, Louise Creagh, Katelyn Shore, Leah Daly, Ciara Crowley, Alannah Brennan, Aiva Coss, Aileen O'Neill, Grainne Delaney, Eimear Hasset, Susie Delaney, Tara Lowry, Aoife Daly
Subs: Cara Henderson, Aimee Cuddy, Ava Guilfoyle, Aoibhe Hoary, Aoibheann Dalton, Lucy O'Connor, Louise Bergin, Casey Peacock, Rachel Deegan, Leah Rice, Laura Phelan, Lisa Kirby, Amy Lacey, Hannah O'Mahony, Natasha Rowan, Ellen Conroy, Jill Gaughan, Abbie Gibbons, Rebecca Pearson.
Most Read Stories