Murray return as Meath ladies boss would be no surprise to Doherty
June 08, 2023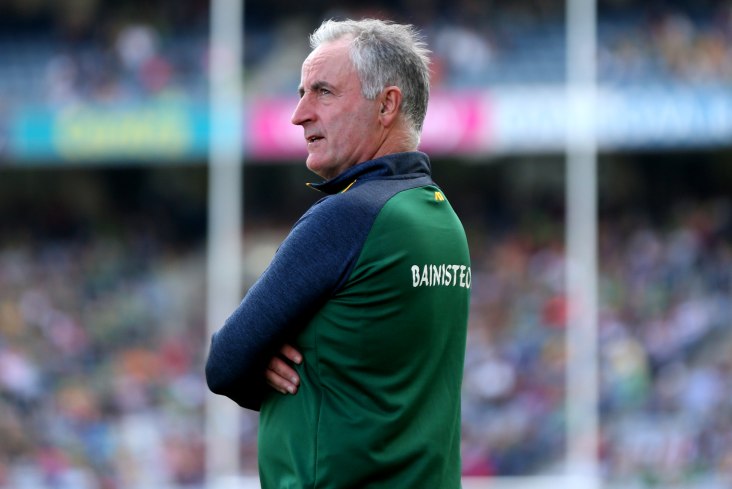 Meath manager Eamonn Murray watches on in the final few minutes of the game against Kerry ©INPHO/Tom Maher
Former Donegal star Nadine Doherty says she wouldn't be surprised to see Eamonn Murray returning to the hotseat as Meath ladies manager after Davy Nelson's departure.
Nelson stepped down earlier this week after just eight months in charge of the back-to-back All-Ireland ladies football champions and speculation has been rife since that Murray could return ahead of the Royals' All-Ireland SFC opener against Waterford on June 25th.
Speaking on 2FM's Game On programme, Doherty says Meath LGFA could once again turn to the man with "the magic touch".
"I really wouldn't be surprised if Eamonn Murray made a comeback to be honest," said the ladies football analyst.
He continued: "He [Murray] had the magic touch with them for those few years. When he took over five or six years ago they were absolute rock bottom. They are fairly low at the minute. He has a very good relationship with those players and does bring an excellent backroom team.
"Obviously he doesn't have Eugene Ivers [strength and conditioning] and Paul Garrigan available. That was a huge loss for Meath, even more so than Eamonn as manager.
"I just think that coaching team, their departure, was a massive loss. Even if Eamonn does come back, he is going to have to bring very, very strong coaches with him to get team back to where they were.
"Time is against them at this stage, they are out on 25 June against Waterford and then face a resurgent Donegal the following week."
Most Read Stories